Today, on Halloween, let's consider the word WHILE and the seasons of life.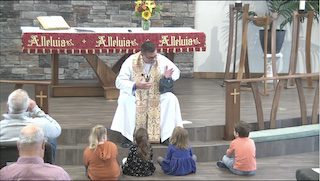 While as verb: to while away the Halloweens of our youth
While seasons lasted forever, we whiled away our youthful time, marching from childhood into adolescence, which gave us lessons along the way. Joys and regrets for what we did and what we left undone—as here: an apology I owe but will never be received, except by the grace of God. By His grace, we can repent and pass along our spring-times lessons.
While as conjunction: Halloweens happen while we're busy working
Yesterday was Reformation Sunday and another celebration of our congregation's 250th anniversary. We also celebrated our pastor's 30 years of ordination, 30 years of working while Halloweens happen. Many people attended, one, two, three, four generations. While watching a young father rock his dear child, I remembered my own and Halloweens of the past while I was busy working and raising children.
While as noun: spending time with friends and neighbors for a while on Halloween
Here at Vanaprastha, we no longer mark Halloween. No trick-or-treaters venture up the mountain road in the dark—few during the day, for that matter. Our children are grown and live far away. Instead, Keith and I spend a while with friends and neighbors, as our small group did two weeks ago and our Women's Bible study group will this morning. This is the autumn of life—colorful, decaying around the edges, yet greenery courses through our veins.
While as adverb: while we are still here on Halloween
While the New Life Choir sang the Benediction yesterday—starting just before 1:26—I looked at the grey heads among us. We are still here on Halloween, so God has something for us to do. On Wednesday, we will practice Advent and Christmas music while anticipating the winter of life, ironically, the season that brings us hope.
Link up with Five Minute Friday: https://fiveminutefriday.com/2022/10/27/fmf-writing-prompt-link-up-while/