What is my purpose?
"I don't know what my purpose is anymore," said the attractive middle-aged woman. We had struck up a conversation while standing outside Phenix Salon suites on Barracks Road. I was waiting for my hairdresser to come unlock the front door and let me in for my appointment, and the woman wanted to make an appointment with one of the other hairdressers who rented space in the building. I'd told her my hairdresser would help.
The friendly woman said she was new to the area. Her finance had died of Covid, and she'd recently retired and moved from New York City. "My children and grandchildren are still there, but I'm done with the City," she said. "I don't want to fill my time with family. They have their own lives." I nodded.
"It takes a while to figure out what's next in this stage of life," I said. "I went through that transition ten years ago. It's easy to busy yourself with volunteering and miss your real purpose." I paused to consider what I might say next. "If you don't mind, my advice is to take your time with this transition. Pray, and the answer will come to you. That's what I did and that's what happened." I told her I'd returned to my old enthusiasm with music—playing flute and singing—which I hadn't had time to do while working and raising children. And I found a new mission in writing.
The Purpose Driven Life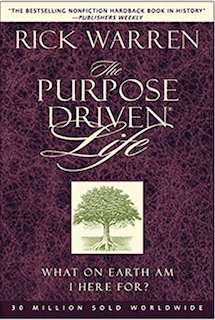 One of the books I read in preparation for my "sabbatical"—which turned into a career change—was Rick Warren's The Purpose Driven Life, published in 2002. The book's 40 chapters are divided into six major sections: 
What on Earth Am I Here For?
Purpose #1: You Were Planned for God's Pleasure: offer real worship.
Purpose #2: You Were Formed for God's Family: enjoy real friendship.
Purpose #3: You Were Created to Become Like Christ: learn real discipleship.
Purpose #4: You Were Shaped for Serving God: practice real ministry.
Purpose #5: You Were Made for a Mission: live out real evangelism.
Many of us are so focused on family life and making a living that we lose sight of that first question: What I am here for; what is my purpose? I was blessed with both of my missions: teaching then writing. But when I thought about the advice I gave to the woman back in August, my mission hadn't really changed.
I am still a teacher.
Did I miss my purpose?
While getting my hair cut that day last month, I thanked my hairdresser for helping the woman and told her about our conversation.
"Ah, she's a kindred spirit," my hairdresser said. "You should have exchanged phone numbers so you could stay in touch." 
Had I missed an opportunity for something as big as kindred friendship—Purpose #2? Or was our small exchange the extent of my mission—Purpose #5? Only God knows.
Today, as we approach the Autumnal Equinox here at Vanaprastha and mark the transition into a new season of life, I encourage you to ask questions, find your purpose—big and small—and follow that path. 
That's what we are here on earth for.
Link up with Five Minute Friday: https://fiveminutefriday.com/2021/09/16/fmf-writing-prompt-link-up-purpose/