A decade ago:
"What would you do if you could take a sabbatical?" the post read on our listserv message board. I lurked while my online colleagues responded predictably: read, study, learn new things, or travel some. At that point in my career, I was a curriculum technologist on a 12-month contract. If I had a summer off, I thought, I would read, study, learn new things, and travel some, too, and clean closets.
I'm not an overachiever, just tenacious but slow on the uptake. Previously, one of my listserv colleagues had posted a link to Bill Moyers' interview with Sara Lawrence-Lightfoot, author of The Third Chapter. Intrigued, I watched the YouTube clip then ordered the book. Rather than sabbaticals, the interviewees, all in their 50's and 60's, left their professions to pursue different careers, in many cases reclaiming their dreams. I am a baby boomer, too, but sabbaticals and dreams were not for practical people like me. I passed the book along to a colleague.
A year later, I left my teaching job and took a sabbatical.
Today:
In a recent post on the Perennial Gen, author Jeff Haanen (An Uncommon Guide to Retirement: Finding God's Purpose for the Next Season of Life) stated that people often view retirement as either endless vacation or endless work—or something else.
"A new generation of older Americans are seeing retirement as a chance to take a season of sabbatical rest in order to listen to God's voice, rethink work, and commit to serving their families, neighbors, co-workers and communities as elders."
A decade ago:
My "sabbatical" was not really a retreat or time off and definitely not a vacation, since we were building our house at Vanaprastha. It was more like a hiatus, like my friend Sarah Myers described in her Noontime reflection about Jacob:
"There is no rest, no withdrawal from life to re-assess. He has, instead, entered into a period of difficult work, a time of arduous labor, of intrigue, of doubt . . . a time of separation from what he has been promised . . . a time of waiting while working . . . a time of knowing that God abides . . . a hiatus…."
Today: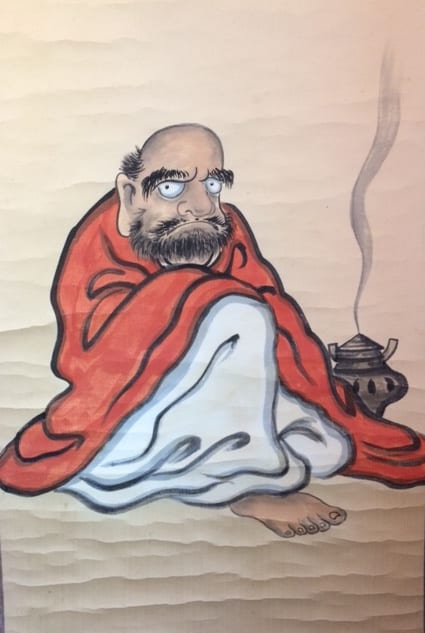 Thought difficult, sometimes arduous, and imbued with helpless waiting like this grumpy-looking Daruma who stares at me while I work at my desk, hiatus was a gift. Similar to the people interviewed in Lawrence-Lightfoot's The Third Chapter, I pursued a new career. And as Haanen wrote, I expanded my commitment to family, neighbors, and communities when called. I suppose I'm an elder though I often feel more like a novice on this journey called life.
As Sarah Myers wrote a decade ago: "We all must live in hiatus at one time or another. There will be some disappointment which will break the well-laid plans we have in mind. It is at this point that we wrestle with God to come to the realization that the promises whispered to us will be fulfilled. Hiatus teaches us how to move in God's time, in God's way, in God's plan, in God's love. We must welcome our own hiatus."