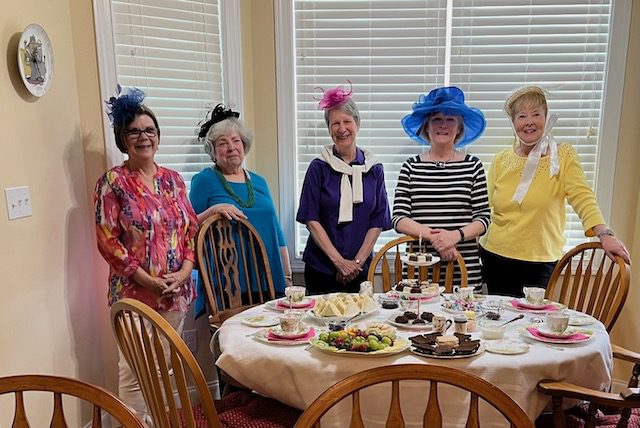 "Let's have a tea party!" the spring hostess wrote. "Bring your favorite tea, teapot, and/or teacup."
Setting up for Tea
Our hostess had set her table with Queen Mary's (Elizabeth II's mother) favorite china dishes. She set out jam and clotted cream to go with muffins, baking in the oven, petit fours, and other delightful goodies. In the living room, party hats and favors related to tea.
After donning hats, the 51ers were ready to celebrate.
The History of Tea
During the tea party, our hostess regaled us with tea humor and history. Tea drinking dates back to ancient China; tea containers have been found in tombs from the Han dynasty, 206 BC – 220 AD. The drink came to Europe in the sixteenth century through Portuguese traders and missionaries, followed by the Dutch and British, who eventually dominated the trade.
This exclusivity included taxation on tea in the American colonies, causing major push-backs. Did you know that Charleston, South Carolina had boycotts and a tea party a few weeks before the famous Boston Tea Party in 1773? Now, we did, too.
After the Tea Party
"If it is nice we will play croquet," our hostess had said, and it was a lovely day. So, after the tea party, we descended her basement stairs and walked into the back yard. As with the table, our hostess had already set up the wickets and stakes. As with our hats, we selected color coordinated mallets and balls then had at it.
After a rousing, rule-bending game—mulligans allowed—we said goodbye until the summer gathering and returned to our lives. One a widow; two caretakers for husbands with degenerative diseases; two stepping up to husbands' declining dexterity or mobility—knowing fully that it could be the other way around: our husbands as caretakers to us. 
Tea parties and croquet, the 51ers ministering to one another as we experience the not-so-terribly-strange state of aging.