Over the weekend, I turned seventy.
As I pondered the beginning of my eighth decade, Paul Simon's lyric "How terribly strange to be seventy" played in my head. It's not the first time his songs from the 60s have colored my memories of adolescence. Or that I've thought about aging.
The lyric is from Simon & Garfunkel's song "Old Friends," recorded for their Bookends album released in 1968, and dovetailing with the title song. Simon was in his mid-20s; I was a junior in high school. His career had taken off; I didn't have a clue what was ahead for me. Perhaps neither of us knew how unpredictable and precarious life would or could be.
I wonder what Paul Simon thinks about "Old Friends" now that he's on the cusp of his ninth decade.
Like bookends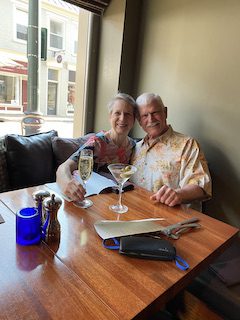 When Keith and I met in person for the first time, we enjoyed a sumptuous meal of oysters, salad, and grilled salmon. We talked about our families, missions and values, finances and health—spiritual, intellectual, physical—and discovered a common resilience. At the age of two, Keith had contracted polio, which compromised his right leg as opposed to my clubfooted left. He was a left-handed to my right. Walking side-by-side with our good legs and dominant hands to the outside, we looked like bookends.
On Saturday night, Keith took me to dinner at the farm-to-table restaurant Zynodoa on E Beverley Street in Staunton. We enjoyed a sumptuous meal of chicken pate, New York strip steak with whipped potatoes, green beans, and sautéed mushrooms, and a chilled blueberry confection for dessert. In this picture, sitting side-by-side with our good legs and hands to the outside, we look like bookends.
Because for one another, we are.
Preserve your memories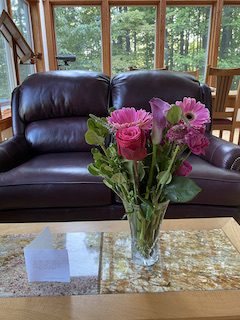 I received many good wishes from friends and family over the weekend. My children sent me these flowers. On Saturday, we Skyped and texted. My daughter sent a video of our granddaughter. 
Memories.
"They're all that's left you." In earthly terms, Paul Simon had that about right.
Can you imagine us years from today?
Later this week, a group of us same-year friends, fellow 1951-ners, will gather for lunch at Blue Mountain Brewery in Afton. I don't think any of us could have imagined ourselves here, all these years later. But we probably could have predicted that there'd be no park-bench sitting for us. No newspapers blowing around our round toes. No waiting for sunsets. No dust settling on our shoulders. No silently sharing fears—we laugh a lot and share our faith.
Except in 1968, I never would have imagined the faith part. But here I am, praising God for the beauty of His creation, and upon each sunrise saying, "Thank you, Lord. What is Your will for me today?"
It's not so terribly strange to be seventy. I lived all of those years. And look who I am today.