We never assume what the view might be moment to moment outside our windows here at Vanaprastha. Yesterday morning, we woke to fog, which lifted before we headed to church. But driving down the mountain road into the valley was another story. Rising above it again after summiting Afton Mountain, we looked across a white comforter blanketing the Rockfish Valley. I would have stopped at the scenic pull-out to take a picture, but we were already late because of another thing we never assume.
Never assume information is accurate
When people adopt dogs from a shelter, foster care, or rescue organization, they receive health records and information about previous owners, if any. Our first dog Heathcliff was adopted by a family who couldn't take care of him, then bounced around and landed in the Alexandria shelter. His record said he did not like to go in the car. Oh yes, he did—always, from the first time we drove him home.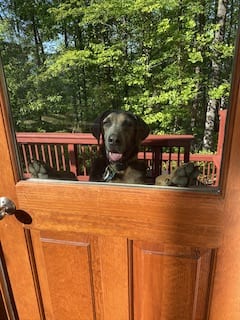 Freya was a problem dog, snippy and hard to place due to failed adoptions. We quickly discovered how smart she was—and sweet. And Cato? One of the shelter volunteers told us he was a runner, which you can see is far from the accurate. Mac seems to be a dedicated home-body, too. He's house-trained, but we never assumed his adjustments wouldn't need to be cleaned up, as happened yesterday morning—the reason why we were late.
Mac didn't mean to mess in the house; he just lost it. Or as Paul wrote in Romans 7:15, I do not understand what I do. For what I want to do I do not do, but what I hate I do. We get it, Mac, we really do. 
Never assume what I write is what I'll do
One Tuesday morning before Bible study, our teacher walked up to me and said, "My husband and I watched the church service virtually last Sunday, and there was one piece where your flute was particularly lovely."
All that I had written about how to receive a compliment graciously went out of my head. I blathered about how I didn't control the sound recording, although my flute is miked. Then I made matters worse by saying I just picked out harmonies—there were no written parts. Finally, our teacher put me out of our misery.
"I know this is hard for you," she said—she reads my blog, "but I'm trying to give you a compliment." I sighed and nodded. …what I want to do I do not do…
"Yes, yes, you're giving me a gift, and receiving well is another gift." I put my hand on my heart. "Thank you. Thank you."
Never assume Lent is only about darkness
Last week, we marked the beginning of Lent with Ash Wednesday. Lent, a solemn time of fasting and prayer, repentance, sacrifice, and almsgiving, ends with the glorious celebration of Easter.
Lent is not only about darkness, for indeed, the English word Lent means "spring." And we're certainly seeing a lot of that here at Vanaprastha, as daylight savings time approaches. The springtime of Lent is an opportunity to give more time to God in prayer, give more to others, and practice more obedience. 
To clean out dead leaves and the wild honeysuckle choking our soon-to-flower shrubs. Never assume wildlife has no darkness. 
What things do you never assume?
Link up with Five Minute Friday: https://fiveminutefriday.com/2023/02/23/fmf-writing-prompt-link-up-assume/