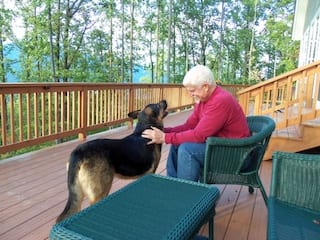 Adopting a rescue dog
Keith and I talked about adopting another shelter dog—a rescue dog as it turned out, a buddy for Heathcliff to play with once we retired to Vanaprastha. So, when that happened in 2012, we'd already picked up a flyer from Almost Home volunteers, staffing the SPCA booth at our local Farmers Market. The flyer's picture showed "Hugs," a good-sized shepherd-mix with one flopped ear. Keith studied the photograph, read her profile, and tucked the flyer in his back pocket.
I spent the month of September in Connecticut with Heathcliff, overseeing repairs to my mother's house before the sale. Mother had moved to assisted living earlier that spring. One day, Keith called with the news: he'd adopted a dog.
"Hugs, the shepherd-mix?" I smiled into the phone.
"That's the one."
I chuckled. "I figured you might get lonely and go see her. What's her name?"
"I call her Freya." The goddess of women, beauty, love, war, and magic.
Caring for a rescue dog – what to watch for
Dogs have different preferences and personalities
Rescued dogs have histories, many times unknown
Watch for health issues
Give adult dogs time to adjust; expect some anxiety
According to the staff at Almost Home, Freya was between three and five years old and disliked female dogs, but got along well with male dogs who enjoyed playing rough like Heathcliff. She and her brother Jupiter had been feral before rescued. Jupiter was out for adoption, but Freya had been in the shelter for a while. Failed adoptions and a reputation for being snippy hurt her chances for placement.
But she adjusted well with Keith at the mountain house. She smelled Heathcliff so she knew there was another dog around somewhere. When Keith let her off leash, Freya stayed close and came right back when he called. And she understood almost everything he said to her.
Freya always tested positive for parasites and had a cyst the size of a golf ball on her head and extra toes on both back feet. The vet took care of everything through surgery and medication. Though active and alert, Freya feared both open and closed spaces. When Keith gave her hand signals, commands, or corrections, she ducked her head, trembled, and peed on the floor. She had been abused.
When Heathcliff and Freya first met at Vanaprastha almost nine years ago, both dogs tensed and low growled, hackles up. Their bodies jerked and postured—Heathcliff defending me, Freya defending Keith. After the dogs sniffed nose-to-nose and nose-to-tail, they settled and soon were inseparable.
Adjusting to the loss of a buddy
Looking back at my posts about Freya, I invariably find her with Heathcliff. They were a pair, though Freya had her own personality, quirks, and loyalties. Freya's a one-man dog, and Keith her savior. I came to accept that, but recently, she's sought my affection—what a lovely surprise!
Over the years, we've treated her for skunk and parasites, likely from more scavenging. Though well fed, her breed and feral experience—nature and nurture—mark her. We call her our Iditarod dog, because she gleefully drops and rolls in snow. She's also a rule-follower; our most obedient dog.
The loss of Heathcliff, first as buddy to Cato then to death, has been hard on Freya. While Heathcliff struggled with health issues from aging and focused on his mission, mentoring Cato, Freya became depressed and stopped shedding almost entirely. But she's bouncing back, shedding and smiling as in the past. I am grooming her daily now.
In closing this week's note from Vanaprastha, here's the "special music" from yesterday morning's service at Bethany Lutheran Church, a Saraband by Arcangelo Corelli for organ and flute. The two-minute clip starts just before 22 minutes; the camera shifts to Carolyn and me just before minute 23.
Happy Summer Solstice, and happy birthday to our son Alex. You are a special blessing.
Next week, Cato's story.