But the fruit of the Spirit is love, joy, peace, forbearance, kindness, goodness, faithfulness… Galatians 5:22 NIV
At church yesterday, the choir was scheduled to sing "Let there be peace on earth with I've got peace like a river," arranged by Douglas E. Wagner. But there weren't quite enough of us, and some weren't feeling well enough to sing, though we'd rehearsed. Even Keith stayed home with a cold. Regardless, both songs became the inspiration for my word for 2023.
Peace.
And let peace begin with me
 "Let There Be Peace on Earth" was written by Jill Jackson-Miller and Sy Miller in 1955. Jackson-Miller later stated that she had been suicidal after her marriage failed and that writing the song had led her to discover the "life-saving joy of God's peace and unconditional love." Failure and suffering led her to peace—and that's my story, too.
Peace as a placid river
"I've got peace like a river" is an old, traditional spiritual, which "compares the peace of God to a placidly flowing river, the joy of Christ to a merrily bubbling fountain, and the love of God to a deep, wide ocean."
Peace, joy, love. Sounds simply wonderful, and it is. But it's also not that simple.
Peace as a frozen or dry river
Many experienced the cold of winter over Christmas. The "river" that flows down the ravine on our property froze solid. Keith and I thought we'd made it through unscathed, until we discovered our refrigerator/freezer ice maker had frozen, too. After a few DYI attempts at fixes, which failed to solve the problem, I called a repair person.
One way or another, all will be well.
When the temperature rose this past week, the bats come out of hibernation. We know because Keith found one in the upstairs shower—alive. He wrapped the bat in a towel and gently put it outside near a puddle so it could hydrate and fly away, which it did.
Peace can be challenging during frozen or dry river times—or Decembers like ours. But I know that under the ice or dry surface, the placid "river" still flows. That's what I need to remember in times when the river is raging.
Peace as a raging river
Because we live in relationship with others, we share their joys and sorrows. Every day, people lose spouses, parents, children, siblings, friends, and neighbors to illness, accident, and war.
It's hard to hear the placid flowing river over the sound of a raging river. But under the turmoil, the peace of God is there. Always.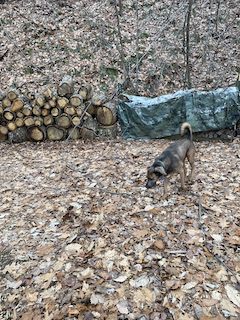 This morning, Cato puppy and I cleared branches and sticks from the turnaround and woodpiles at the foot of the ravine. The ravine "river" has thawed and dried. But I heard the placid flow.
Because today I've got peace like a river in my soul.