December was going along fine. The old Subaru passed inspection so we could give the car to our son Alex, a friend launched her first book, I got a good report from the ophthalmologist and not one but two book offers, and we bought a new Subaru. And Santa Claus was coming to town.
But at times during the past week, Merle Haggard's "If we make it through December" seemed like a more apropos theme song.
December car challenges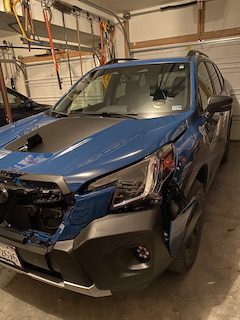 Early Friday evening, along a dark stretch of road no more than three minutes from our house, a large deer leaped across the road in front of our new car. I'd glimpsed the animal in my left peripheral vision and hit the brake but not in time to avoid collision. Plastic from the grill flew into the air, and the deer disappeared. Though my left headlight was askew, I was able to drive home. 
My son was also in the car. Thanks be to God, we were fine. And Santa Claus was coming to town!
December travel challenges
The winter storm began with cold rain on Wednesday late afternoon. That day, my daughter was driving with our granddaughter to see us for the holidays. With everyone trying to outrun the storm, traffic was heavy and slow. A six-hour drive took eight, but they arrived safely.
The next morning brought freezing rain then more cold rain and wind. That afternoon, my son and his partner experienced similar delays when they flew from LaGuardia to Charlottesville. But our son Alex won the prize for travel headaches: the train from Washington Union Station to Charlottesville arrived four hours late.
Many people never made it to their destinations this Christmas. Thousands of flights were canceled; people were stranded in vehicles stuck in ice and snow. But thanks be to God, we seven were together.
December power challenges
The high winds on Friday into Saturday took out electrical power in our neighborhood. Thank goodness for the whole house backup generator! The electric company restored power on mid-Saturday, but the power went out again just before we headed to church, and the generator was still on when we got home. I checked the outage map: none. So, I reported our outage, the company arrived in the dead of night, and Santa Claus came.
Many are still without power. Many are cold. But by the grace of God, everything's going to be alright.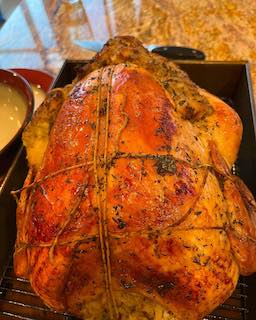 After we sat down to Christmas dinner on Sunday, we thanked God for the birth of His Son. Maybe some of us remembered to express gratitude that we're employed and not lonely as in Merle Haggard's song. But it was bitter cold. The Big Green Egg was frozen shut so we cooked the turkey in the oven.
Today, the power is on, the temperature is rising, and everyone is travelling home. I filed a claim with our insurance company and am washing up bedsheets and towels and making turkey soup. Tomorrow, we'll make an appointment with the body shop when they open.
We'll make it through December, no "if" about it. And we'll be fine.