Coffee with mother
Every afternoon, after school, Mother makes herself a cup of decaf coffee laced with milk, and my sisters and I pour ourselves Cokes. Then we sit around the dining room table while Mother listens to our woes. I tell her about my teachers' impossible expectations, friends who might not be friends anymore, and all the terrible, awful, horrible things that happened that day. At the end of my recital, I get up from the table, feeling much better, and start my homework.
Coffee with self
At breakfast, I down one cup of coffee laced with milk then another and another. I start first semester of college with one cup; by the end of second semester, I graduate to two or three cups. My hands tremble, my heart races, and a sour feeling roils my gut. Though alert, I'm on the verge of panic and having trouble sleeping. Know thyself: only one cup of coffee in the morning, and maybe decaf later.
Coffee with spouse
The coffee maker in the loft beeps five times, and the smell drifts down to meet the late-summer air flowing through our bedroom window. In the forest, a lone vireo greets the day with a persistent repertoire of courtship songs. I wonder, will his warbling so late in the season win him a mate like my husband won me late in life, to build and share a nest together?
I slip on t-shirt and sweatpants and meet my spouse at the bottom of the stairs. He hands me my one cup of coffee. "Good morning, my love," he says, "did you sleep well?" I hear the rich burbling of the vireo in his voice. "Yes, thank you," I say, "and you?"
Coffee with a friend
My friend and I are enjoying our usual Friday coffee at the Rockfish Valley Community Center. In the past three years, we've both lost mothers, dogs, and spouses—her beloved husband, my ex—so we know grief, joy, loss, and sorrow can overtake us at any time. Today, it's her turn. 
She tells me about the tragic death of one of her husband's family members. I sip my cup of decaf and listen, hoping my friend will get up from the table feeling much better.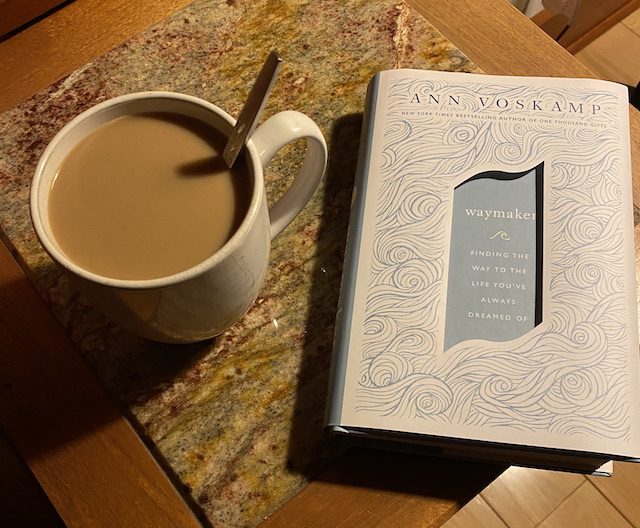 Every morning, I sip my coffee laced with milk, read the Word, and pray. Starting my day, in relationship with the Lord. The SACRED way, as Ann Voskamp writes in The Waymaker: Stillness to know God, Attentiveness to hear God, Cruciformity to surrender to God, Revelation to see God, Examine to return to God, Doxology to thank God.
Link up with Five Minute Friday: https://fiveminutefriday.com/2022/03/31/fmf-writing-prompt-link-up-coffee/