Saturday evening, after the sun set low over the Three Ridges, Keith and I sat down for dinner and, as usual, said a prayer, giving thanks for all our blessings.
"Thank you, Lord, for this wonderful day and for the beauty of your creation. Thank you for bringing Keith and me together, for the love that we share, for the missions you've given us and the skills to accomplish them. Thank you for our family, friends, and neighbors, our church and writing community around the world…"
Giving thanks for family
As we spoke that prayer, my daughter and our granddaughter, having left Hong Kong, were landing in the United States to make their home. We last saw them in person two years ago, when our granddaughter was two, playing with dearly departed Heathcliff and seeing snow for the first time. Last year, it was uncertain when they would be able to travel. Now that they're a half-day drive instead of half-way around the world, Keith and I might enjoy the blessing of being more active grandparents.
Family relationships bring both blessings and challenges, especially being a parent. As beloved NPR commentator Marion Winik wrote in The Lunch-Box Chronicles, "To be a parent is a form of ongoing aspiration." Yup. I aspired to be a good mother but often fell short of expectations and agonized over failure. Even today, when I think back at those failures, I can fall into punishing myself with guilt.
Winik: "While our kids are growing up, we are growing, too, building individual parenting styles from the disparate messages received from experts, friends, relatives, our own instincts and our kids themselves. And we are only human. Unrealistic expectations are self-defeating; becoming obsessed with guilt when things go awry, as they are bound to in such a difficult and long-term project, doesn't help anybody. You can't very well move on and act the way you'd like to while mired in unworthiness and hopelessness. And all the time you spend brooding and punishing yourself is more time when your best self is not there for your kids." Or for anyone else, for that matter.
It's never too late to laugh at yourself and forgive. To know that you are greatly loved by the Father. These are some of the lessons that grandparents can pass along.
Giving thanks for friends
Yesterday at church, the last Sunday in Pentecost, after having examined the cycle of events in the life of Jesus, Pastor walked us through the church seasons. The church year begins with Advent, a season of preparation, wonder, and anticipation, followed by Christmas—the birth of our Savior and promises fulfilled—and Epiphany, the manifestation. Lent is both a season of preparation and repentance followed by Easter—Jesus's crucifixion, resurrection, and ascension—then Pentecost. 
Remembering keeps us anchored in our faith, Pastor said, comforted by the Word, and challenged by the responsibility to use our gifts and share the message.
To share the life and love of Jesus Christ with all, giving thanks that we still have the freedom to do so.
Giving thanks for neighbors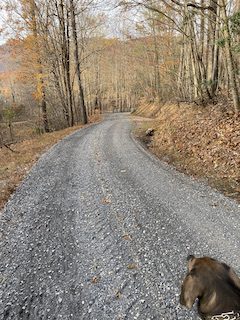 Saturday morning, Keith gassed and started the leaf blower for me before walking down the driveway to the neighbors to meet the rest of the Road Committee. I blew leaves around the house then down the mountain road, meeting our young neighbor, who was doing the same. It is an honor to work together in community. Later, when Cato and I walked to the mailbox, I noted what we all had done and will do again.
Preparing for winter. Giving thanks with family at Thanksgiving. Anticipating Advent, a season of wonder.