In those days Caesar Augustus issued a decree that a census should be taken of the entire Roman world. (This was the first census that took place while Quirinius was governor of Syria.) And everyone went to their own town to register. So Joseph also went up from the town of Nazareth in Galilee to Judea, to Bethlehem the town of David, because he belonged to the house and line of David. He went there to register with Mary, who was pledged to be married to him and was expecting a child. Luke 2:1-5 NIV
Government Decrees:
2020 is a census year in the United States, the twenty-fourth census in U.S. history. Instead of travelling to hometowns to register, households receivedofficial Census Bureau mail, inviting them to respond to the 2020 Census online, by phone, or by mail. During the summer and fall, census takers visited homes that hadn't yet responded and canvassed homeless shelters, soup kitchens, and the non-sheltered.
Our daughter and three-year-old granddaughter live in Hong Kong. Though citizens of the U.S. counted by the State Department—and not required to register at home—they are unable to travel due to government decrees related to Covid-19. Flights out of Hong Kong are few, and upon reentry, non-Chinese nationals are subject to quarantine for fourteen days "at a designated location" other than their apartments. Government decrees can also change.
Amid this uncertainty, our daughter and granddaughter will not be traveling to see us this Christmas, but Christmas will certainly happen.
***
On coming to the house, they saw the child with his mother Mary, and they bowed down and worshiped him. Then they opened their treasures and presented him with gifts of gold, frankincense and myrrh. Matthew 2:11 NIV
Opening Gifts:
"We are missing family," our daughter wrote in October. "Holiday season isn't going to be easy this year. I have to start thinking about what we can do for Christmas. It's still a special time, and I want to find a way to bring family in as much as we can. I have ordered a tree and will have all our family decorations up. And we can of course send gifts to open."
I emailed her a link to a local toy store's website, which ships to Hong Kong, and asked what gifts she might like us to send in a care package. Stocking stuffers for our granddaughter, a particular brand of salad dressing, green tomatillo salsa, and sprinkles for Christmas cookies for our daughter, and marshmallow fluff for a Hong Kong friend who had been a guest in our house.
Christmas morning in Hong Kong—for us, Christmas Eve, thirteen hours earlier EST—we will watch our granddaughter open her "treasures" via Skype and show her our Christmas tree, decorated as it was last year when they were home with us. Christmas brings out the hopeful expectant child in us.
So, even while our daughter and granddaughter will not be coming to our house this year, and we cannot come to them, Christmas will be joyously celebrated.
***
When they had gone, an angel of the Lord appeared to Joseph in a dream. "Get up," he said, "take the child and his mother and escape to Egypt. Stay there until I tell you, for Herod is going to search for the child to kill him… After Herod died, an angel of the Lord appeared in a dream to Joseph in Egypt and said, "Get up, take the child and his mother and go to the land of Israel, for those who were trying to take the child's life are dead." Matthew 2:13, 19-20 NIV
God with us:
Herod's wrath is similar to any authoritarian ruler's past and present, including China's. Individuals, ethnic groups, and religious believers deemed threats to the ruling regime are hunted down, arrested, disappeared, enslaved, tortured or killed—officially declared terrible accidents—including young people, women, and children. In China today, churches and mosques are being leveled or redesigned to conform with state ideology.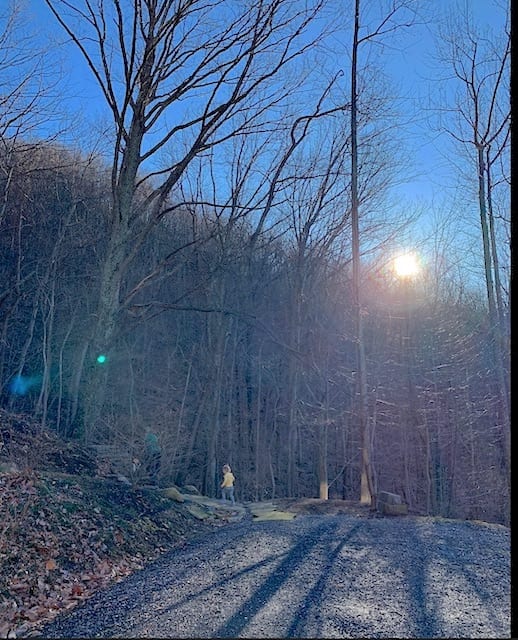 My husband and I pray daily for our daughter and granddaughter's safety under Hong Kong's new national security law. We ask for God's protection and the Holy Spirit's guidance; we put our faith and trust in His Son. In truth, there are dangers throughout the world. We desperately need His light to break through the darkness and bring hope during these wintry days.
Our daughter is uncertain when she and her child will return to our native land. In the meantime, they remember last year. Perhaps our granddaughter dreams of opening presents under our Christmas tree and helping Grandpa cook the Christmas turkey and walking the mountain paths with Grandma as the sun dips below winter's southwest horizon.
A light in the darkness, the certainty of Christmas, because Emmanuel has come.