When I was a boy and I would see scary things in the news, my mother would say to me, "Look for the helpers. You will always find people who are helping" -Fred Rogers
This past week, I had occasion to remember Fred Rogers' words—about seeing scary things and looking for helpers—and to think about people who submit. We read about scary things in the news every day. During prayer requests in church and in Bible studies on Sunday morning, Tuesday morning, and Thursday evening, I hear about people facing scary things. Our human needs are great, and so we pray.
But what do helpers have to do with submission? 
On Friday morning, Keith and I attended the funeral of a friend, a member of our congregation. Even for those who have faith, submitting to death while seeing a loved one's body or cremains lowered into a grave can be hard. Not so long ago my family was there with my mother. That story is my contribution to The Perennial Gen's October caregiving theme; check out the other posts, too.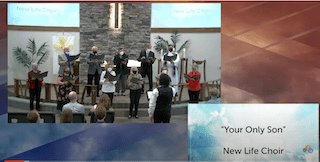 Thinking about earthly caregiving and singing "Lamb of God" with the choir as prelude to yesterday's service, brought the two ideas—helpers and submission—together. Side note: at the 5-minute mark, I'm standing front right, dressed in black slacks and red shirt.
God's helpers do as Jesus did: submit to others, mission, and authority.
Helpers submit to others
First and foremost, what does it mean to be a helper? From our Thursday evening study of 1 Peter, it's clear that we are all meant to be helpers and submit to God and to others through our relationships. In other words, helpers care for one another.
In Roman culture, valuing children and women as themselves was counter-cultural and revolutionary in practice. Women were considered property meant to pleasure men, and infanticide was common. Christians, on the other hand, rescued abandoned children and valued women for their work. In fact, many Christian women owned businesses. They were not forced into marriage and were equals in marital partnerships. Men and women respected, honored, cared for, and loved one another. Submission, then, was not a burden.
However, outside of this context, the words in 1 Peter 3:1-7 are a little hard for me to swallow. Wives… submit yourselves to your own husbands…Husbands, in the same way be considerate as you live with your wives, and treat them with respect as the weaker partner… (emphasis is mine)
But Paul's gentle words in Ephesians 5:21-33 resonate. Submit to one another out of reverence for Christ. Wives, submit yourselves to your own husbands as you do to the Lord… Husbands, love your wives, just as Christ loved the church and gave himself up for her… In this same way, husbands ought to love their wives as their own bodies. He who loves his wife loves himself… each one of you also must love his wife as he loves himself, and the wife must respect her husband.
Out of reverence, love, and respect, helpers submit to others and reflect the same in their missions.
Helpers submit to their missions
Work comes easily to me—I love to work. Teaching, pursing the perennial tradition, writing. At my best, I believe in, belong to, and work for God. Full participation.
But I've also admitted to having a strong "imperial ego,"—my will be done instead of Thine. When my ego leads, I'm often in conflict with others and lose sight of my mission. As Rabbi Moshe Averick stated in The Confused World of Modern Atheism, which I wrote about here, "The struggle to seek the truth and let the truth determine our agenda, rather than use our personal agenda to determine what we will accept as truth, is the essential battle we must be prepared to fight if we wish to be fully human."
Seeking the truth – I like that.
Helpers submit to authority
I also like the idea of letting the truth determine my agenda. But then Scripture says this:
1 Peter 2:13-17 Submit yourselves for the Lord's sake to every human authority: whether to the emperor, as the supreme authority, or to governors, who are sent by him to punish those who do wrong and to commend those who do right. For it is God's will that by doing good you should silence the ignorant talk of foolish people. Live as free people, but do not use your freedom as a cover-up for evil; live as God's slaves. Show proper respect to everyone, love the family of believers, fear God, honor the emperor.
Submit to every human authority? Talk about counter-cultural. We don't like to submit to anything or anyone.
Yet, by not submitting to God, we submit to all kinds of human foolishness, including our own. The media is full of "ignorant talk" based on personal agendas.
Why do God-submitting helpers submit to human authority? Because Jesus did, silent in the face of unjust punishment. And His submission unto death changed the world.
So, when faced with scary things, I look for the helpers who submit for the Lord's sake.
I look to the ultimate Helper, the Lamb of God. (Lyrics by Twila Paris)
Verse 1
Your only Son, no sin to hide,
But you have sent Him from Your side
To walk upon this guilty sod
And to become the Lamb of God
Chorus
Oh Lamb of God, sweet Lamb of God,
I love the holy Lamb of God.
O wash me in His precious blood.
My Jesus Christ, the Lamb of God.
Verse 2
Your gift of love, they crucified.
They laughed and scorned Him as He died.
The humble King they named a fraud
And sacrificed the Lamb of God.
Chorus
Oh Lamb of God, sweet Lamb of God,
I love the holy Lamb of God.
O wash me in His precious blood.
My Jesus Christ, the Lamb of God.
Verse 3
I was so lost I should have died
But You have brought me to Your side
To be led by Your staff and rod
And to be called a child of God.
Chorus
Oh Lamb of God, sweet Lamb of God,
I love the holy Lamb of God.
O wash me in His precious blood.
My Jesus Christ, the Lamb of God.