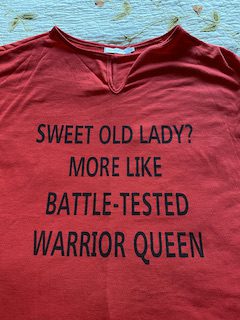 "It's a late birthday gift," Keith said as he handed me this bright-red shirt, a good gift for someone pursing the Perennial tradition. Cato and I had just returned from our walk down the mountain to retrieve the mail, including the package. Sweet Old Lady? More Like Battle-Tested Warrior Queen, the shirt read. I wear it as a nightshirt so both of us can enjoy the joke.
There's perennial wisdom here, too. No doubt about it, I am an old lady but not that sweet, I've learned over the years; battle-tested, by times a warrior, but never a queen. In faith, I'm not alone in this lifelong journey.
If we choose the spiritual life, we grow up, grow whole, and grow old. The Perennial Gen co-founder Michelle Van Loon defines these three stages as "God, I believe in You," "God, I belong to You," and "God, I'm working for You." Apprenticed by Jesus, we may also become sage.
The Perennial Tradition
The development of consciousness in the Perennial Tradition is a gradual, lifelong process, states Franciscan Father Richard Rohr. Rather than a straightforward journey, it's a dance with steps forward and back, but the trajectory is toward love instead of punishment. God desires union, inclusivity, non-violence, forgiveness, mercy, and healing.
Rohr: "The Perennial Tradition points to recurring themes and truths within all of the world's religions. At their most mature level, religions cultivate in their followers a deeper union with God, with each other, and with reality—or what is. The work of religion is to re-ligio—re-ligament or reunite what our egos and survival instincts have put asunder, namely a fundamental wholeness at the heart of everything."
Perennial participation
How does one go about this journey toward wholeness?
From Rohr's September 10, 2021 reflection: "Religion as participation is a rediscovery of the Perennial Tradition that so many saints and mystics have spoken of in their own ways. It constantly recognizes that we are a part of something more than we are observing something or 'believing' in something."
But if we move away from participation, we become autonomous and forget that intimacy with something more than ourselves. Thanks be to God, there is a Redeemer.
Rohr: "Jesus offered the world full and final participation in his own very holistic teaching. This allowed Jesus to speak of true union at all levels: with oneself, with neighbors, with outsiders, with enemies, with nature, and—through all of these—with the Divine."
Pursing the Perennial life
One way I participate is to contribute regularly to The Perennial Gen.
Their mission states: "Our faith is rooted in Jesus the Messiah. We believe whole-life discipleship is a life-long pursuit (Deuteronomy 6:4-9). We affirm maturity is not an age or stage, but describes the loam of spiritual formation and life experience that leads to fruitfulness; namely, wisdom and love (Proverbs 3, 1 Corinthians 13). We believe Jesus' promise of life abundant does not have an age limit embedded in it (John 10:10). As a result, we embrace what we call the perennial life…"
I also look for opportunities to practice my faith in person. During yesterday's service at Bethany Lutheran Church, I played "Ave Maria" by Charles Gounod during Communion. If you're interested in watching the service in full or in part, the 6½-minute clip starts just before 52-minute mark. Yes, that's Keith, who as the elder filled in for Pastor.
After playing, I often receive praise from the congregation. Though my ego loves the attention, praise embarrasses me. How to participate fully? I receive: "Thank you for your encouragement," and I give: "I hope you were encouraged, too."
A battle-tested old lady, dancing toward sweet wholeness.