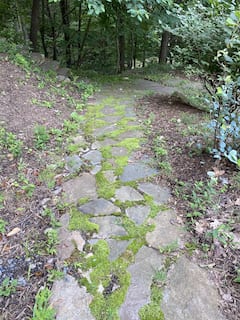 Perseverance in Faith
Last Thursday morning, during my morning devotion, I stumbled upon perseverance in faith—twice. First, I wrote our church's Bible verse of the month at the top of the left-hand side of the page in my faith journal: Consider it pure joy, my brothers and sisters, whenever you face trials of many kinds, because you know that the testing of your faith produces perseverance. James 1:2-3
The right-hand page has the next day's reflections with my word of the year, Devotion, at the top.
Then I read several reflections I subscribe to online and copied their verses into my journal—until those same verses showed up here, this time from Lysa TerKeurst: "Consider it pure joy, my brothers and sisters, whenever you face trials of many kinds, because you know that the testing of your faith produces perseverance." James 1:2-3 (NIV)
This is not a first-time occurrence. I'd say duplicated verses show up on the same day a few times every year, usually within the online reflections themselves. Whenever I read a Bible verse more than once in a morning, I'd like to think I pay closer attention.
Perseverance in Nature
Perseverance in nature is an easily observable quality in all living things, especially moss.
According to the City of Raleigh, North Carolina government site: "Mosses will grow on any hard surface, including the sides of trees, but they prefer to grow on North-facing surfaces because they like the darker, more humid environment. If you don't see any moss growing on trees, also check on rocks. Mosses love to grow on hard surfaces, so trees and rocks are perfect homes for them." 
Rocks in dark-shaded areas and north-facing roofing shingles, too, on our house here at Vanaprastha.
Perseverance in Trial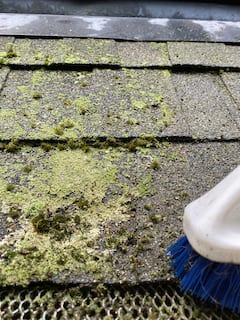 Saturday morning, I positioned the extension ladder, attached the outdoor cleaner spray bottle to the hose, and retrieved a scrub brush. After washing, scrubbing, and rinsing most of the moss off the north-side roof, I tired. The algae on the siding and gutters could wait. I climbed down the ladder and released the clips to collapse the extension but, in my fatigue, forgot to get my body out of the way. A rung crashed onto my left arm with a bang.
My wrist swelled like it had swallowed a ping-pong ball. I gingerly moved my wrist this way and that—no breakage or bone chips, and thankfully, the injury didn't hurt much. So, I put away the ladder, hose, and scrub brush before heading to the kitchen.
Filling a plastic bag with ice, I was reminded of Michelle Van Loon's April post about perseverance—enduring a sprained ankle during an overseas trip—and the treatment: Protect, Rest, Ice, Compress, Elevate. PRICE, plus anti-inflammatory medication.
Icing brought the ping-pong ball down to small egg size. Before my afternoon walk to the mailbox with Cato, I asked Keith to wrap my wrist in an Ace bandage for compression and protection. While walking, I kept the wrist elevated above my heart and rested after we got home.
PRICE and Perseverance.
Sunday morning in church, I played my flute without much additional effort and thanked God for His protection from serious injury. Then I focused on worship, because trials and testing—of my own making or otherwise—are what a faithful life is all about. As long as I pay closer attention and… 
Let perseverance finish its work so that you may be mature and complete, not lacking anything" James 1:4 (NIV)