Flakes of fine snow began to fall here at Vanaprastha last Tuesday evening. By early Wednesday morning, several inches covered the ground, driveway, and deck. Local schools, churches, and government offices closed.
Lodged

The rain to the wind said,
 "You push and I'll pelt."
 They so smote the garden bed
 That the flowers actually knelt,
 And lay lodged--though not dead.
 I know how the flowers felt.

-Robert Frost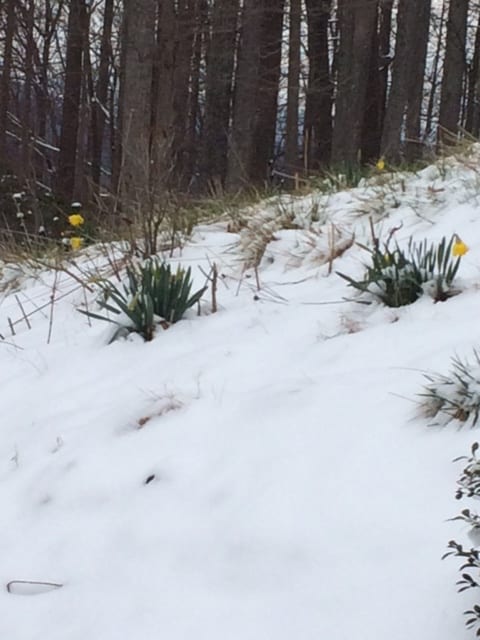 In the meadow, our daffodils lodged, by definition, beaten flat to the ground, not by rain and wind but snow. Not dead. Kneeling. Like us, brought to our knees by the push and pelt of life's storms.
We know how the flowers felt.
I imagined their suffering, helplessness, perhaps hopeless, too. Their stems bent and heads bowed. Yet they remained unbroken. I took heart.
Like many bulb plants in temperate zones, daffodils (narcissus) need exposure to cold before growth can begin. The first sign of warmth spurs them to reach for the sun and compete for early pollinators before other plants blossom. And while dormant through summer, fall and winter, the bulbs root and conserve moisture for the next round of testing.
Cold, flowering, lodging, rooting.
In the Lord's prayer, we ask God, "and lead us not into temptation." We wish to be delivered from suffering and trials, especially those that seem too hard for us to endure. And yet those tests are precisely what brings us to humility – rooting then strength.
How much we are like narcissus.
Mid-afternoon on Wednesday, Heathcliff and I walked down the mountain road to the mailbox. Snow had tapered to flurries, and the road was mostly clear due to warmth from the earth. In the early evening, rain pelted our windows, and we saw ice forming at higher elevations.
Budded trees lodged, not to the breaking point and not for long.