The Sunday, December 27th Gospel reading was Luke 2:22-40, the story of Joseph and Mary taking baby Jesus to Jerusalem to present him to the Lord, according to the law. Keith and I watched the service from home, erring on the side of caution. Our noses were a little drippy and stuffy, though we felt fine.
As Pastor spoke of Joseph's obedience, Simeon's patience, Mary's faithfulness, Anna's devotion, I grabbed a notepad and pen. Obedience, patience, faithfulness, and devotion—good words for the new year. After the service, I re-read the Gospel, paying close attention to Anna, described in verses 36-38.
There was also a prophet, Anna, the daughter of Penuel, of the tribe of Asher. She was very old; she had lived with her husband seven years after her marriage, and then was a widow until she was eighty-four. She never left the temple but worshiped night and day, fasting and praying. Coming up to them at that very moment, she gave thanks to God and spoke about the Child to all who were looking forward to the redemption of Jerusalem.
Devotion.
I entered the word into the draft of this post, clicked on it, and brought up the thesaurus.
Piety (n.): dedication, consecration, commitment; religious zeal, fervor, observance
Care (n.): attentiveness, support, loyalty, dedication, fidelity, constancy, commitment, steadfastness, attachment, affection, fondness, love, adoration
Enthusiasm (n.): zeal, admiration, keenness, fervor
It struck me that piety had to do with faith, care with relationships—as wife, mother, grandmother, sister, friend, neighbor—and enthusiasm with mission.
God, Relationships, Mission. In that order. One, Two, Three.
Anna was pious in worship, fasting, and prayer.
As the daughter of Penuel, of the tribe of Asher, and in her marriage, Anna likely cared for her family and community, but now was a widow.
Anna was an enthusiastic prophet, coming up to Mary, Joseph, Jesus, and Simeon, thanking God, and speaking about the child to all looking forward to redemption.
But what might my devotion look like—specifically?
Caring: Last night, Heathcliff woke us at 1:55, needing to go outside, and barked to come back inside at 2:07. Not a long time but sleep interruption all the same. Though we were sleepy this morning, Keith and I greeted the morning with loving attention to one another.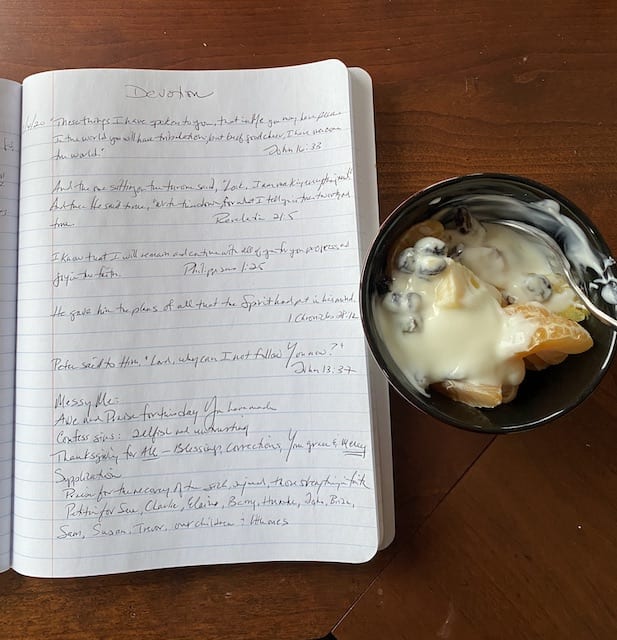 Piety: Over coffee and breakfast—that's yogurt, fresh pineapple, mandarin orange, and raisins—I read devotions and copied the scripture that spoke to me. A very good way to start the day.
Enthusiasm: In this post, I am sharing my faith with you.
Devotion.
A Happy New Year!