A gentle breeze wafted through the open windows at Trinity Lutheran Church in Crimora, or maybe the movement of air was from members of the congregation fanning themselves. Old-time air conditioning. Last week, we said goodbye to our former building in Waynesboro. But we'd yet to receive the certificate of occupancy for the new church building in Fishersville. So, we met at the place where the church began in 1772.
After worship, we gathered for a potluck in the pavilion. "If your last name begins with A-F: bring drinks; G-N: a main dish; O-Z: dessert; the refrigerators in the pavilion will be available for you to put your food that needs refrigeration," Pastor's mid-week email had stated.
We looked back to the old days to move forward to the new.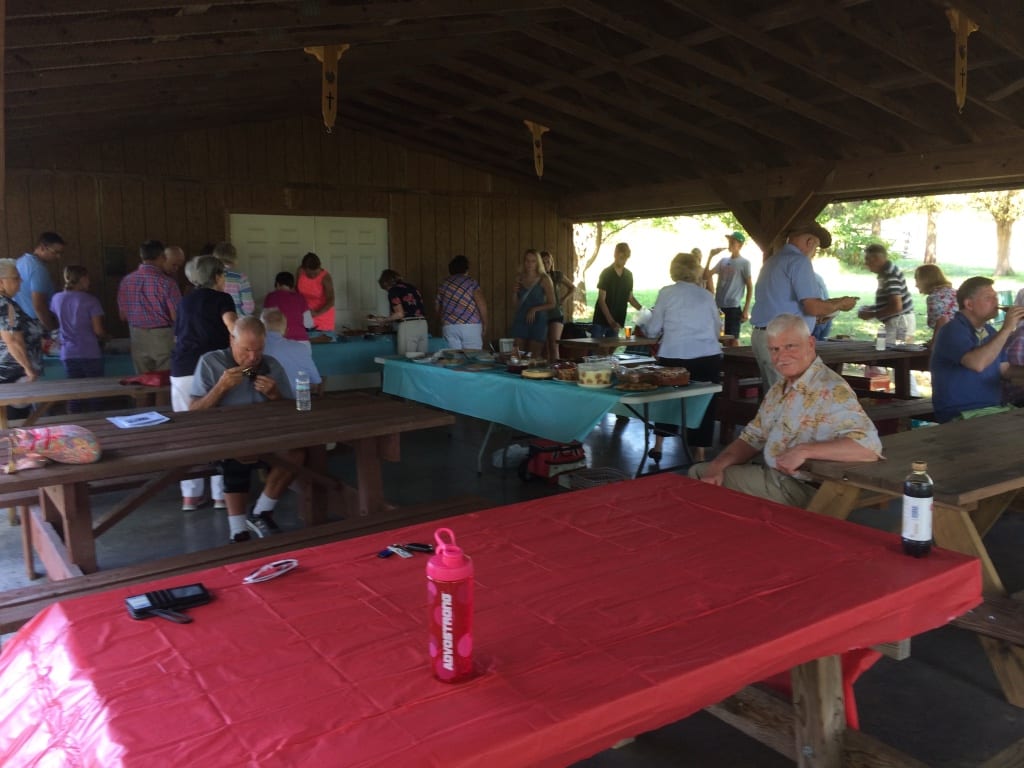 With two last names, one in the drink group and the other in main dish, Keith and I opted to bring a pack of individual bottles of water, a large bag of potato chips, and 21 homemade BLT's. The latter were gone by the time Keith and I cued up at the end of the line. No matter. There's always plenty to eat at church potlucks.
Today, our church moved forward. When I arrived at the new location this morning, the 18-wheeler truck that had been packed full was nearly unpacked. We moved boxes and furniture into color-coded offices and early childhood classrooms: dark green or red/orange for the two four-year-old classrooms, purple for the two-year-old class, and light blue for the three-year-old class.
While others emptied the rental truck parked in front of the church, the teachers unpacked boxes, and another group removed leg-packing from the new sanctuary chairs. With 150 chairs, each with four, tightly-wrapped legs, unpacking took a while. We broke for lunch—a buffet of make-your-own sandwiches, grapes, chips, cookies, and drinks—then finished up.
"Many hands make fast work," community events like these always feel familiar to me, a looking back to my old neighborhood's pool-cleanings on Memorial Day weekend and picnics on the Fourth of July and Labor Day.
Over the weekend, I completed another draft of my memoir, a story about looking back to move forward in faith. I'll hand the manuscript to my editor/coach this week then head for HippoCamp, an annual conference for creative nonfiction writers held in Lancaster, Pennsylvania.
On the agenda: former NPR journalist Jacki Lyden and best-selling memoirist Nick Flynn for keynote speakers; readings, story slams, mealtime discussions; and breakout sessions. I'm interested in those about craft and marketing—how to attract readers with newsletters, author websites, Instagram, and podcasts. I want to learn about building community through podcasting, perhaps looking back at my most "liked" blog posts and recording them.
I don't know if our church will be looking back at Trinity again next Sunday or moving forward in the new sanctuary. Keith will tell me, since he has elder duty. I'll return home from HippoCamp on Sunday evening and will write about it in next week's post. In following weeks, I plan to tell a little about my looking-back-to-move-forward faith memoir.
Until then, please share a "looking back" experience that moved you forward.