Bethany, Connecticut's Amity Regional Junior High School band marched in the Memorial Day Parade that sunny day in May some fifty years ago. I played both flute and piccolo to John Philip Sousa's The Thunderer. Our band had a good reputation and attracted large numbers of students, who together sounded grand. But that day, size became a liability.
Somehow, the front and back halves of the band drifted a few measures apart. With the tenacity of early adolescents, we stayed true to our peer groups, each of us wanting to win the duel. "I'm right," the front half blared. "No, I'm right," the back half replied. Mr. Czuba the band director ran up and down the ranks yelling, "Listen! Listen to each other!"
And I did. The dissonance made a strange kind of sense.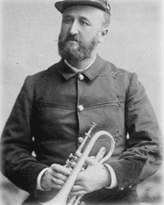 Some sixty years before in the town of Danbury, Connecticut, two bands, either by plan or not, marched past each other while playing different pieces. Separate keys and rhythms created a cacophonous effect. George Ives led one of the bands and found the effect fascinating.
Several years later, his son Charles Ives captured the dissonance in his famous composition Putnam's Camp, the second movement of his First Orchestral Set, Three Places in New England.
This past weekend, I attended a Women's Retreat at Bethany Lutheran Church in Waynesboro, Virginia. During one of the afternoon breakout sessions called Journaling Your Faith, which I led, we wrote about blessings, doubt, growth experiences and fears. Life is not all sweetness, we women admitted. As caregivers, we're faced with streams of barking demands and wandering distractions.
I'll speak for myself. My mind often plays two different pieces in separate keys and marches to dueling rhythms. While listening to the message in church on Sunday, my mind can decide to think about to-dos. It can worry in bed while trying to rest or judge unkindly while saying something nice. It can feel pessimistic, guilty, angry and afraid even when it knows that optimism, focus and freedom from distraction will bring the front and back of the band together to grand and glorious effect.
Dissonance. Given the duality of human nature, it makes a strange kind of sense.