For everything there is a season, and a time for every matter under heaven; a time to be born, and a time to die; a time to plant, and a time to pluck up what is planted – Ecclesiastes 3:1-2
Season of the year
I had to laugh. Cato puppy and Mac dog had followed me up the trail behind our house and were looking around to see or hear why I'd stopped. They love to race through the woods on the mountain where we live in the Blue Ridge. But it wasn't the dogs who had caused me to explode with mirth but the awesome beauty of the view, like the myriad of colors here on the oakleaf hydrangea. 
I had just finished blowing leaves from the trail and the ditches along our driveway and down the mountain road. But on our way to church on Sunday morning, I noticed more leaves had fallen into the ditches— "as if I hadn't done anything." I sighed to Keith.
"Nature abhors a void," he said. Again, I had to laugh. They don't call this season "fall" for nothing.
Season wood, season food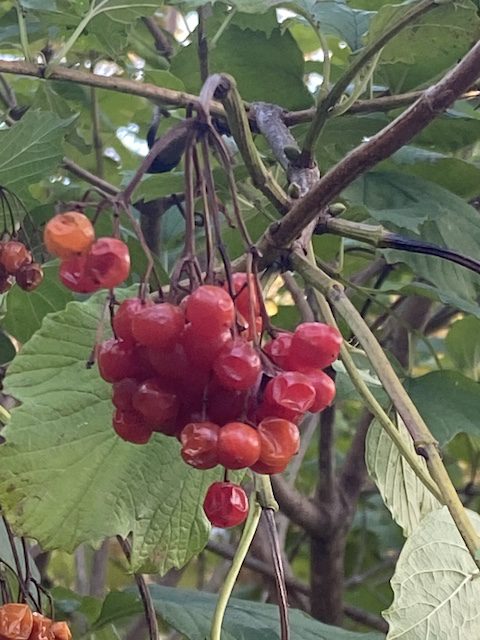 Fall is also the harvest season, fruits—like the cranberry-like berries on the cranberry viburnum—vegetables, and wood. Keith has been chopping wood, which we've been seasoning, drying under a tarp for several months. I also picked herbs to season soups, cooking on the stove and in the crockpot, for us and for others.
Season of life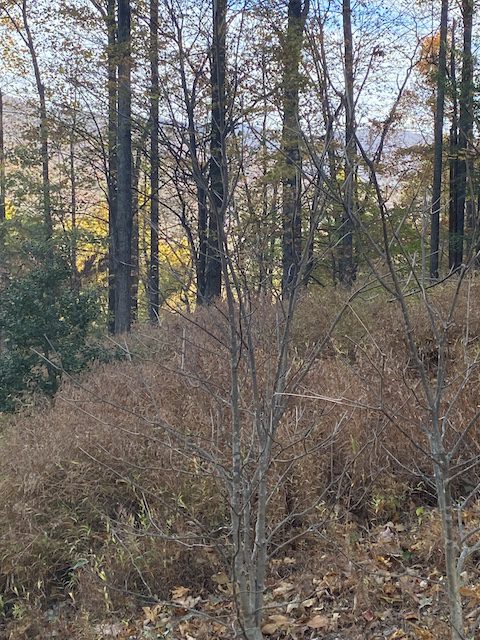 Saturday evening, after the sun set low over the Three Ridges, Keith and I sat down for dinner and, as usual, said a prayer, giving thanks for all our blessings.
"Thank you, Lord, for this wonderful day and for the beauty of your creation. Thank you for bringing Keith and me together, for the love that we share, for the missions you've given us and the skills to accomplish them. Thank you for our family, friends, and neighbors, our church and writing community around the world…"
This third season of life has been a blessing for us, time to reconnect with old friends and enthusiasms and to discover new. Most of all, it is a season for spiritual growth, as we season, like the golden grasses in the meadow here at Vanaprastha.
Linkup with Five Minute Friday: https://fiveminutefriday.com/2023/11/02/fmf-writing-prompt-link-up-season/