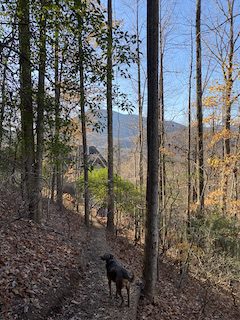 I had to laugh. Cato puppy had followed me up the trail behind our house and was looking around to see or hear why I had stopped. He loves to race through the woods on the mountain where we live in the Blue Ridge. But it wasn't Cato who had caused me to explode with mirth, but the awesome beauty of the view.
When I took this picture on Saturday, I had just finished blowing leaves from the trail and the ditches along our driveway and down the mountain road. But on our way to church on Sunday morning, I noticed more leaves had fallen into the ditches—"as if I hadn't done anything." I sighed to Keith.
"Nature abhors a void," he said. Again, I had to laugh. They don't call this season "fall" for nothing.
Laugh for joy
Sunday's service at church included the baptism of four-week-old Verity Grace. As her parents stood and watched, I couldn't help but laugh for joy, even though I knew they had entered the long summer season of raising Verity from her first into her second stage of life.
Today, I will walk Cato down the mountain road to get the mail with one of our neighbors, who is in the winter season of life yet still active. During a recent visit, her son had suggested walking poles. Initially, she protested, preferring her cane. 
"If you get them, so will I," I said. "We'll be the talk of the neighborhood, two little old ladies with their walking poles." We all had to laugh. And so, the two of us pole-walk, talk, laugh, and keep ourselves from falling.
Laugh at myself
I can be amusing, especially when I'm being particularly human—as with this story about my misplaced frugality. As long as we're not demeaning ourselves or others, the ability to laugh at yourself is a healthy quality, no matter what season of life.
In a 2021 Psychology Today article titled "How Laughing at Yourself Can Be Good for Your Well-Being," the authors concluded, "If we have good ego strength, finding humor in who we are or what we do not only reminds us of our humanness, but also promotes positive interpersonal interactions and relationships."
Amen?
Laugh during Thanksgiving
Family gatherings, especially during holidays, can be both difficult and joyful. All the more reason why we should look for opportunities to laugh during this season.
Here are some silly Thanksgiving puns to make us laugh, from Good Housekeeping Magazine:
What did the turkey say to the computer? Google, google, google!
What do you get if you divide the circumference of a pumpkin by its diameter? Pumpkin pi.
Why can't you take turkeys to church? They use fowl language.
And this quip from Erma Bombeck, the woman who made the world laugh: "Thanksgiving dinners take 18 hours to prepare. They are consumed in 12 minutes. Half-times take 12 minutes. This is not coincidence."
I wish you all a blessed Thanksgiving. And don't forget to laugh.
Link up with Five Minute Friday: https://fiveminutefriday.com/2022/11/17/fmf-writing-prompt-link-up-laugh/