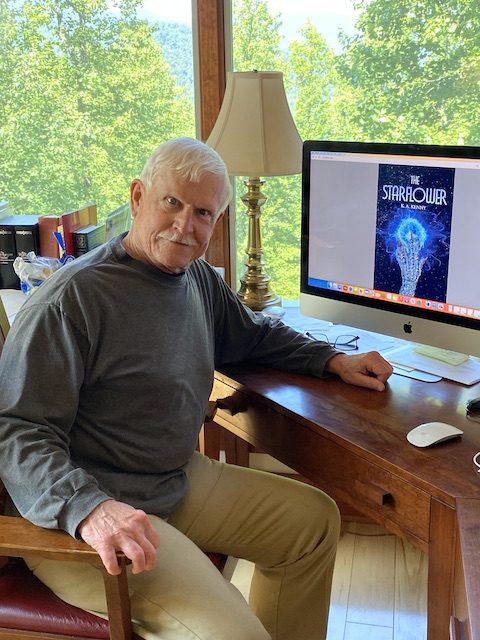 The moment had finally arrived. On Friday, Keith's first novel The Starflower released to the public. A moment, an instant, that took ten years' time.
A moment in time
We hadn't received Keith's copies of the paperback, so I pre-ordered the e-book. When I signed onto my iPad on Friday morning, the book downloaded into my Kindle Library. I raced upstairs to show Keith, who had the cover on his desktop. His moment had arrived.
A magic moment
As I took this picture, I heard "This Magic Moment" by The Drifters in my head: This magic moment, so different and so new… Yes, the moment was magical—and romantic, as is our story, and there's romance in The Starflower—and much more.
No matter how many times I'd read the manuscript, reading the book was a different experience. I wasn't reading for structure or consistency or flow or pacing or word choice or copy-editing. Now I could just sit back and enjoy the story.
Except for the other half of publishing: marketing.
A marketing moment
Over the weekend, I emailed over one hundred people, definitely not an unscripted moment.
Dear Family, Friends, and Neighbors:
Please join us in celebrating the release of The Starflower, now available in paperback and kindle formats on Amazon,with the audio book to come.
The Starflower is a story filled with action and aliens, intrigue and treachery, prophecy and heroism, romance and assassins – all experienced by Gayle Zimmon, the Starflower. Welcome to the vast, futuristic universe of Keith's rich imagination.
If you read The Starflower, kindly leave a review on Amazon, Goodreads, and/or other book review sites. If you enjoy The Starflower, please recommend the novel to your friends, family, and acquaintances, in person and/or on social media. And feel free to forward this email to others.
Your support is deeply appreciated.
-C.D.
And so is your support, dear readers. Please take a moment…
Moment linkup with Five Minute Friday.