An instant happening, coming immediately, a precise moment, a very short space of time.
Instant Coffee Change
I had hoped this moment would never come but couldn't avoid the reality. Coffee, including decaf, sent my urinary system into immediate distress. Tea and carbonated beverages, too. The tip-off? Experiencing the symptoms of an infection but testing negative. 
Like most people, I knew acidic foods could aggravate the digestive system. But I've discovered acid-producing foods can cause acidity in one's urine, too. Other dietary irritants: alcohol, apples, cantaloupes, chilies and spicy foods, citrus fruits, strawberries, vinegar, cranberries, grapes, peaches, pineapple, plums, tomatoes, chocolate, mayonnaise. Lots of much-beloved foods on this list, so I moderate and, for fruit, substitute low acid pears, apricots, or watermelon.
I made the coffee change the same way as when I cut my hair four and a half years ago, a precise moment of exchanging the old style with a new. Now, in a very short space of time, I heat up water in the microwave every morning, stir in a scant teaspoon of low-acid KAVA, and add half-and-half—I still like my coffee with milk or cream. It took me a day or so to adjust to the aftertaste, but now instant coffee is quite palatable. Maybe not an instant change, but close.
Not So Instant Reading Journey
Over the weekend, I started reading Tolstoy's masterpiece War and Peace. The book, Keith's copy, has been on my pile for years. We've watched several film adaptations together, so I know the story well. But reading the real thing—in translation—can be like slipping down an icy mountain road and losing one's way. Not knowing whether to continue or turn back and abandon the daunting journey with characters who will suffer. Reading an epic story like this is about trusting the path.
As is reading a quiet story. Yesterday, I attended the book launch for a colleague, the first of our Memoir-in-a-Year cohort to publish her book. Not an instant happening but a life unfolding and a journey well worth taking.
As is reading Scripture.
Both Not So Instant and Instant Advent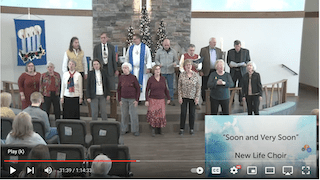 Yesterday also marked the second Sunday in Advent, a time of waiting for the arrival. Our choir sang Andraé Crouch's Soon and Very Soon—the sound kicks in just before the 30-minute mark. 
God's time often seems not so instant to those like me, living in this Instagram World. But His time is not ours. And when He comes again, we're told that precise moment will be an instant happening, an unavoidable reality, the ultimate change—the old for the new—in a very short space of time.
Soon and very soon. A long hoped-for moment. In an instant, all of us caught up in an epic story about trusting the path.
Link up with Five Minute Friday: https://fiveminutefriday.com/2022/12/01/fmf-writing-prompt-link-up-instant/