As a verb, leave can mean either go away from or allow to remain. Opposites? Maybe, or both.
To leave, go away from home
The picture above is of me and my parents on my wedding day in 1975. I was both happy and sad, because that day I would leave home, my parents, that place, all the things dear to me over nearly twenty-four years. Of course, the ultimate going away from home comes at the end of life.
From my devotion for last month on The Sage Forum:
I listen for the rustle of leaves—poplars, oaks, maples, sassafras, staghorn sumac, Paulownia, sycamore—the gurgling stream, squirrels and lizards scurrying, blue jay jeers, chickadee calls, red-tailed hawk whistles, the drumming tattoo of pileated woodpeckers foraging for insects in dead or dying trees. Nothing is permanent, nothing lasts. Why not delight in this world God created for us before we must leave?
To leave, allow to remain
Again, from my devotion:
Three fawns at forest edge graze and cavort. The pup and I halt. He barks and jumps, straining at his leash and collar. Leave it, I say. Curbs and corrections, like the shepherd's rod and staff, remind us of our training. When the fawns leap and gallop into the forest, I reward the pup with praise and offer a smelly, salmon-flavored treat from the canvas bag slung over my shoulder. Law and Gospel, like the Master's. Cato sits in obedience, leans his muzzle toward my hand, and takes the soft morsel in his teeth.
Remember last week's story about the redheaded boy who in fourth grade gave me a Paper Mache heart for Valentine's Day, followed by a handmade purse? We lost touch in high school, but out of curiosity I looked him up on Facebook. "I didn't leave a friend request. But part of me wanted to tell him that I'd kept the green, faux alligator-skin purse he made for me…" In other words, leave him be.
Dionne Warwick must have meant something like that while singing Burt Bacharach's and Hal David's "Walk on by…" If you see me walking down the street, and I start to cry each time we meet, Walk on by, walk on by… A friend of mine says she sings "Walk on by…" whenever she sees something tempting in the grocery store, whereas I tell myself, "Leave it!"
To leave you with a both story
In Acedia and Me: A Marriage, Monks, and a Writer's Life, Kathleen Norris tells a story from John Cassian's The Institutes about a 4th century desert monk named Abba Paul. Every day, he wove baskets as he prayed. He couldn't afford the transportation to travel to the nearest town, and therefore couldn't sell his baskets. Yet, every day he wove and every year he burned the fruits of his toil stored in his cave to make room for the next year's baskets. Leave. Allow to remain and go away from. Both.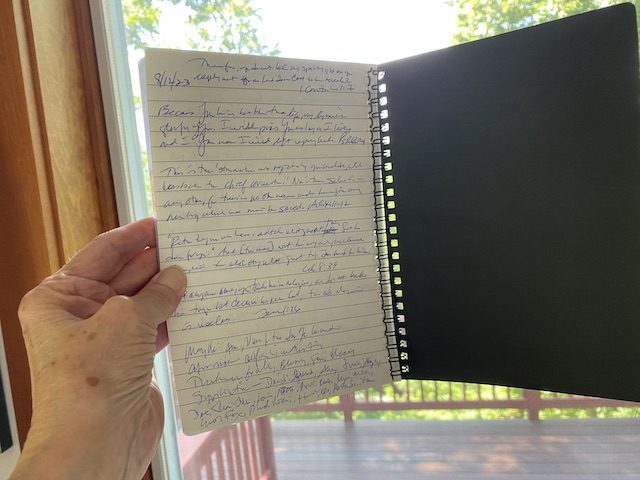 Every morning, I copy scripture from faith reflections I subscribe to online and write out my prayers. A journal like this lasts about a year, depending on the size and number of pages front and back. This weekend, I ran out of pages, threw out the journal—away from me in the trash—and started a new one. 
I keep another journal on my laptop, in which I write every morning. Private, between God and me. I will leave that journal be, allow it to remain, so I can explore what I'm thinking until I must leave this earth.
Linkup with Five Minute Friday: https://fiveminutefriday.com/2023/08/10/fmf-writing-prompt-link-up-leave/