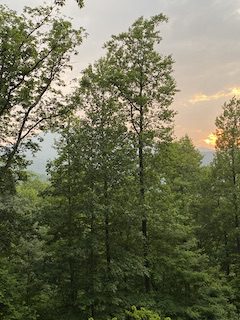 We've had a lot of sunshine for the past several weeks here at Vanaprastha. Though the days have been pleasant, we pray for rain. Metaphorically speaking, it might seem strange to wish for something that can cause gloom or pour down destruction. But without the grace of rain, we would not be grateful for sunshine.
Sunshine in youth
I was graduating college when Stevie Wonder's "You Are the Sunshine of My Life" was released in 1973. Apparently, Wonder wrote the song for his wife: You are the sunshine of my life, that's why I'll always be around. You are the apple of my eye, forever you'll stay in my heart. But by the time the song became a hit, Wonder and his wife had parted. 
When I graduated for high school, Burt Bacharach and Hal David's "Raindrops Keep Fallin' on My Head" was popular. The message? We overcome our troubles and worries by realizing it won't be long till happiness steps up to greet me. After the rain, sunshine will return—our youthful hope.
Sunshine in mid-life
I think all of us have had times in our lives by mid-life when we've identified with Job. 
I go about in gloom, without any sunshine; I stand up in public and plead for help. Job 30:28 GNT
It's hard to be grateful when misfortune rains down on us. And yet, as Kathleen Norris writes in Acedia & me: A Marriage, Monks, and a Writer's Life, "The comedy of grace is that it so often comes to us as loss, sorrow and foul-smelling waste; if it came as gain, gladness, and sweetly scented flowers, we would not be grateful. We would, as we are wont to do, take personal credit for the unwarranted gifts of God."
Without rain, we would take credit for the gift of sunshine.
Sunshine in old age
It is said that Solomon wrote the Song of Songs in his youth, Proverbs in his middle years, and Ecclesiastes when old. Here is what he had to say in those later years:
How sweet is the daylight, and how pleasant it is for someone's eyes to behold the sunshine! Even if a person lives many years, let him enjoy them all, recalling that there will be many days of darkness to come—all of which are pointless. So, enjoy yourself in your youth, young man, and be encouraged during your younger days. Live as you like, consistent with your world view, but keep in mind that God will bring you to account for everything. Ecclesiastes 11:7-9 ISV
Life hadn't worked out well for Solomon; he had fallen away from God and the wisdom of his earlier years. Even if we remain faithful, there is no guarantee that darkness will not overcome us from time to time, especially during the trials of old age. But together, in marriage and community, we weather the storms and share the sunshine of our lives. And are grateful for both.
Link up with Five Minute Friday: https://fiveminutefriday.com/2023/06/15/fmf-writing-prompt-link-up-sunshine/