Snippet #1: Those raindrops are falling on my head, they keep falling…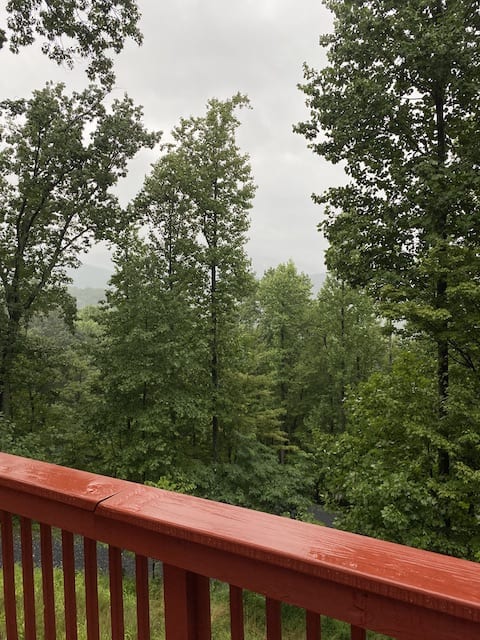 At night, I draw the covers under my chin, snuggling against the chill and steady patter. Rain in August is a welcome respite. But then the days dawn dark and damp.
Snippet #2: So I just did me some talking to the sun…
Today, sunshine celebrates my son's birthday. Happy birthday, David!
Snippet #3: It won't be long till happiness steps up to greet me…
I'm feeling optimistic about the revised pitch for my manuscript:
"The day Carole resigns her job and commutes home for the last time, she enters the liminal space between who she was and who she may become. This luminosity happened twice before: in college at age twenty and at forty with the failure of her marriage, crises that led to her profession in teaching and rejection of atheism. Now on the cusp of sixty and married to the love of her life, she crosses the threshold again, this time to bring fearful secrets to light. Surprisingly, she finds her journey guided by her husband's deceased daughter who Carole never met. Only by embracing great love and suffering will Carole transform into the person she was meant to be."
Snippet #4: I'm never gonna stop the rain by complaining, because I'm free…
And, anticipating another week of rain (not complaining), here's my project's hook:
"Wisdom Builds Her House, a 69,000-word memoir, is about a woman who seeks the truth about an unspeakable event in her family's past, a journey in faith that ultimately sets her free."
Dear readers: I welcome your feedback on hook, pitch, birthdays, or rain in comments.
*Lyrics from "Raindrops Keep Fallin' on My Head," written by Hal David and Burt Bacharach for the 1969 film Butch Cassidy and the Sundance Kid and recorded by B. J. Thomas.
Bonus snippet: I had the honor of reading today's devotion for Bethany Lutheran Church. Here's the link:https://www.youtube.com/watch?v=kOIlXDfMtVs