"Give me a break," I muttered. The good Lord must have heard me because that's exactly what He did. 
Give me a break
The first sign was a stifled sneeze during Bible study on Tuesday morning. Allergies, I said. But as the afternoon progressed, it was clear: another cold. That's when I muttered, Give me a break.
This expression is used to tell someone to stop bothering you or treating you unfairly. Or to say that you don't believe or are disgusted about what someone has said or done. So, I guess that's what I was saying to God.
Hmm… That didn't come out quite the way I wanted.
Getting a break
Although sinus headaches, stuffiness, drainage, and sore throat aren't fun, my schedule didn't change much. Cooking, cleaning, yard work, practicing, Zoom meetings, writing, editing, and dog walking. 
Cato has been exhibiting some aggressive behavior toward visitors since we adopted Mac. Showing off his alpha dog chops, but in truth, he's never been a good greeter. On Thursday, we scheduled an in-home training session with the woman who fostered both Cato and Mac.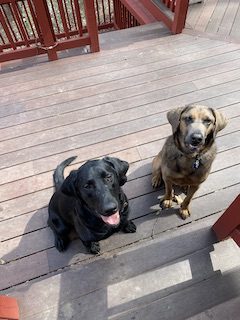 "It's about slowing down," she said, controlling doors—entrances and exits—breaking the pattern of amped up hackles. If that happens, say "Leave it" and "Quiet" while walking the dog away on leash. Then return to the door and try again. "Back Up," if the dog is too close to the door. "Sit. Wait."
This kind of break means obtaining and receiving a fortuitous and beneficial opportunity or new information leading toward a solution to a problem or relief from a difficulty.
The result? Less jumping, less barking. Calm. A welcome break.
Taking a break
Sunday morning, I woke early to more congestion. Keith and I knew I would not be going to church. I'd been looking forward to being with him for Palm Sunday service, singing in the choir and playing with the worship team. But instead, I watched the service online and wondered. Is the Spirit telling me that I want what I want instead of what He wants? Or maybe I just need to take a break, to slow down.
I must admit, I rather enjoyed having the house to myself. After Keith left, I picked up sticks that winds had scattered around the yard then leisurely showered before the service. But I soon the break in my Sunday routine felt lonely. The Lord be with you—And also with you—typed in the chat. 
We are social beings, meant to share fellowship. An interruption like a coffee break speaks to the continuity of relationships. We also need rest, and sometimes that means a pause in work or activity. A hiatus, or maybe a complete change.
Then when we say, "Give me a break," we really mean it.
Linkup with Five Minute Friday: https://fiveminutefriday.com/2023/03/30/fmf-writing-prompt-link-up-break/