"Look, this is important," Keith said, looking over his shoulder into the garage. "I know you think this is a comfortable place. But trust me, you don't want to stay here."
Keith and I were standing outside the open garage door, as he readied to chop wood and I to mow the meadow before snowfall. "There's a bird inside the garage," Keith explained, "and she doesn't seem eager to leave."
"Yeah, I tried to let her out earlier this morning, but she kept flying to the back of the garage."
"She's probably under the workbench now. I'll see if I can chase her out after starting the weedwhacker for you."  He shook his head. "She doesn't understand. Though it's warm in here compared to outside, there's nothing to eat, no bugs or seeds or whatever she eats."
As I was mowing, I thought about the bird. Her choice was no different from some of the "comfortable" decisions I'd made in my life. What had I learned? Staying comfortable is dangerous.
It's important not to stay comfortable in faith.
When Keith and I moved to Vanaprastha about ten years ago, we attended a church nearby. Then one day he said to me, "I'm not growing. Let's find a new church, one grounded in scripture with an emphasis on growth."
Since then we've sat not-too-uncomfortably in a church focused on growing in faith. Reading the Gospel, confessing sins, reciting the Creed, praying the Lord's Prayer, and celebrating the Lord's Supper—truly being in those words is humbling, fearful, awesome. Intimacy with God the Father, Son, and Holy Spirit is not comfortable, but the narrow path is the only way to grace and mercy.
It's important not to stay comfortable in marriage.
Our pastor's wife often says, "A good marriage is made up of two good forgivers." I hope Keith never stops forgiving me, because I sure test his patience.
Marriage is challenging, surprising, joyful, sometimes painful, as both Keith and I well know. Intimate relationships can be uncomfortable—and should be, because that's how we grow. That's how we make it work.
It's important not to stay comfortable in your profession.
Keith and I support one another's writing professions and are blessed with writing communities and friends. Writing is about doing the work, giving and receiving feedback, revising, managing rejections, and celebrating occasional successes. The work, like a faith journey, can and should be uncomfortable. One needs to be curious and hungrily press forward.
As my writing friend and The Perennial Gen co-founder Michelle Van Loon writes, "My faith in Jesus, my Jewish heritage, and my spiritual hunger mark my pilgrim journey and inform my work." Her latest book, Translating Your Past, will be available in February 2022.
In her book, Your Story Matters—published in 2020 and reviewed by me here and here—Leslie Leyland Fields explains the journey this way: "Each one of us has a story, and understanding God's work in our stories is a vital part of our faith. Through the spiritual practice of writing, we can 'remember' his acts among us, 'declare his glory among the nations,' and pass on to others what we have witnessed of God in this life: the mysterious, the tragic, the miraculous, the ordinary."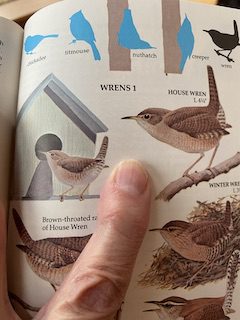 Like the miraculous, ordinary bird in our garage. 
"She's a little bird, brown with a long, pointy beak," Keith said as we took a break from our chores. "I chased her out of the garage. She's now huddled under the deck steps."
"Probably a house wren," I said. Later, I showed him this picture in Birds of North America.  "That's the one," he said. 
As snow covered the Blue Ridge Mountains last week, Keith and I hoped the wren found shelter, a place where her needs were met, a place where she could grow.