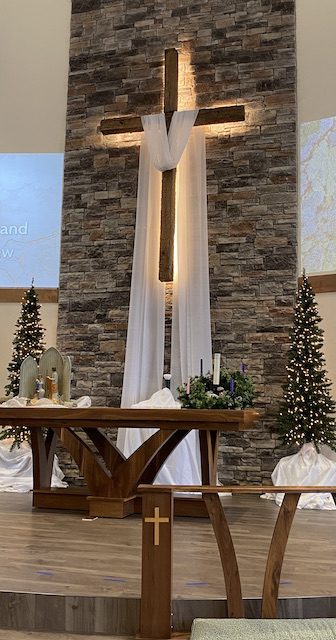 What should we announce and what shouldn't we? Yesterday, while listening to Pastor's message about people's awe (fear) when they saw the hand of the LORD at work with Elizabeth, Zechariah and their son John, I thought about how Scripture guides us when we come to crossroads. This way or that?
Announce the Good News
The prophet Isaiah (42:1-9) spoke of the Good News, announcing the Christ we await and His justice.
"Here is my servant, whom I uphold, my chosen one in whom I delight; I will put my Spirit on him, and he will bring justice to the nations. He will not shout or cry out, or raise his voice in the streets. A bruised reed he will not break, and a smoldering wick he will not snuff out. In faithfulness he will bring forth justice; he will not falter or be discouraged till he establishes justice on earth. In his teaching the islands will put their hope." This is what God the LORD says— the Creator of the heavens, who stretches them out, who spreads out the earth with all that springs from it, who gives breath to its people, and life to those who walk on it: "I, the LORD, have called you in righteousness; I will take hold of your hand. I will keep you and will make you to be a covenant for the people and a light for the Gentiles, to open eyes that are blind, to free captives from prison and to release from the dungeon those who sit in darkness. "I am the LORD; that is my name! I will not yield my glory to another or my praise to idols. See, the former things have taken place, and new things I declare; before they spring into being I announce them to you."
During the season of Advent, we hear these comforting words and celebrate the hope, love, joy, and peace amid the darkness.
Announce warnings
Did you notice the warning? The LORD said, "I will not yield my glory to another or my praise to idols." But the people did not listen then any more than our world listens now. The prophet Jeremiah (4:5-8) warned of the consequences.
"Announce in Judah and proclaim in Jerusalem and say: 'Sound the trumpet throughout the land!' Cry aloud and say: 'Gather together! Let us flee to the fortified cities!' Raise the signal to go to Zion! Flee for safety without delay! For I am bringing disaster from the north, even terrible destruction." A lion has come out of his lair; a destroyer of nations has set out. He has left his place to lay waste your land. Your towns will lie in ruins without inhabitant. So put on sackcloth, lament and wail, for the fierce anger of the LORD has not turned away from us.
Though people like to be comforted, we need to hear what lies ahead if we are unfaithful: judgment and destruction.
Do not announce
I for one love to serve and feel good about myself when I do. Except when I cross the line from All for His glory into prideful all for mine. In Matthew 6:1-4, Jesus speaks about what not to trumpet.
"Be careful not to practice your righteousness in front of others to be seen by them. If you do, you will have no reward from your Father in heaven. So when you give to the needy, do not announce it with trumpets, as the hypocrites do in the synagogues and on the streets, to be honored by others. Truly I tell you, they have received their reward in full. But when you give to the needy, do not let your left hand know what your right hand is doing, so that your giving may be in secret. Then your Father, who sees what is done in secret, will reward you."
How to announce good news
In his message yesterday, Pastor referred to John 3:27-30, where John the Baptist responds to questions about Jesus and lays out the guidelines.
To this John replied, "A person can receive only what is given them from heaven. You yourselves can testify that I said, 'I am not the Messiah but am sent ahead of him.' The bride belongs to the bridegroom. The friend who attends the bridegroom waits and listens for him, and is full of joy when he hears the bridegroom's voice. That joy is mine, and it is now complete. He must become greater; I must become less."
Divine dependence. Divine identity. Divine purpose.
In that spirit, I announce Keith's news about signing a contract with a publisher for his science fiction novel. Look for The Starflower in late 2022! All for His glory.
We wish you a blessed Christmas.
Link up with Five Minute Friday: http://fiveminutefriday.com/2021/12/16/fmf-writing-prompt-link-up-announce/