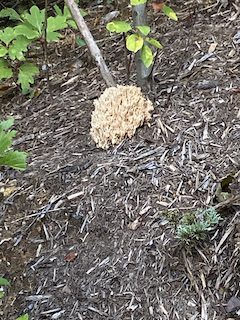 "Do you know what this is?" Keith pointed to something growing on the slope behind the dining deck. I set the steamed asparagus and the tomato, mozzarella, and fresh basil bruschetta on the table next to the steak Keith had grilled and walked over to take a look.
"Some kind of fungus, don't you think?" I said.
"Take a picture, why don't you." I ran inside to get my phone and took this shot. Then we sat down to our Friday evening dinner.
This weekend, the words to Rodgers & Hammerstein's song "Getting to Know You" from The King and I kept playing in my head: "Getting to know you, getting to know all about you." So, to get to know more about the maybe "fungus," I did a little research. Indeed, it's a type of coral fungus called Artomyces pyxidatus, which forms on the ground, on decaying vegetation, or on dead wood. This coral fungus is widespread and apparently edible, though I think we'll pass at least until we're sure.
Sometimes it's wise NOT to get to know ALL about things.
Getting to know flora AND fauna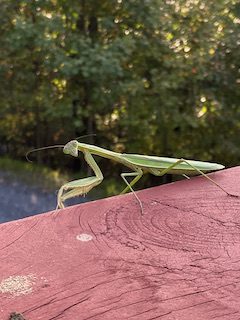 Keith and I run into all kinds of curious flora and fauna here on the mountain. Last Thursday afternoon, I had a "getting to know you" encounter with this mantis. Notice the triangular head, bulging compound eyes, elongated body, flexible neck, and enlarged forelegs for catching prey. Autumn is egg-laying and dying time for mantises; we'll likely see the hatchlings next spring.
Mantises have tympana but only hear ultrasound. So, my conversation with the mantis went unheard. But when I approached, my motion was perceived and tracked—the mantis' head rotated to bring me into its visual field. I was carefully examined in stereo, no less. Mantises feed on live prey—lizards, frogs, fish, small birds, and each other—but are no danger to humans.
I felt comfortable getting to know all about this mantis. In fact, some people keep mantises as pets.
Getting to know others
According to fellow Perennial Gen contributor Afton Rorvik in her newly-released book Living Connected: An Introvert's Guide to Friendship, being curious is one of the best ways to get to know people. Or as Anna sang to her students in The King and I, "Haven't you noticed, suddenly I'm bright and breezy, because of all the beautiful and new things I'm learning about you, day by day."
I've written about Afton's thoughts about generosity in relationships, but there's much more to learn about getting to know others. There's honesty about our self-centeredness: "Why do we worry so much about how others perceive us?" Afton asks. I thought about trying Anna's tactic: "getting to like you," first then "getting to hope you like me."
Then there's Afton's suggestion about approachability online: "What might happen on social media if we reclaimed it as a place to connect, to build bridges, instead of a place to vent? What if every time we posted, we asked ourselves one simple question: How will this post help me build a bridge to another person?" Or, as Anna sang, "Getting to know you, getting to feel free and easy; when I am with you, getting to know what to say."
And Afton on empathy: "Sympathy implies feeling pity for someone else, a fleeting emotion; empathy describes a sort of mirroring of another's feeling, digging deep to understand and enter into another's situation… Prayer and empathy make such a powerful combination… As I pray for people, God gently nudges me toward them."
In truth, no one is precisely our "cup of tea," and we never get to know ALL about anyone—not even ourselves.
Getting to know ourselves
About self-knowledge, Keith often says, "There's always another layer deeper in the onion, another layer of meaning." You know, those "ah-ha" experiences. Finding our purpose. Discovering the impacts of where we come from—starting points, separations, sources. Sweeping away self-deception and making good use of our time.
Enjoying the journey.
Getting to know all the beautiful and new things about ourselves, others, and God's creation.
Day by day.
Have a good one, and please leave a comment so I can get to know you!