She was my mother.
In quick succession, Gayle Greene suffers the loss of her beloved aunt and mother. She's the last of her family; her only sibling and her father are also deceased. Sifting through photographs and belongings left behind, she grieves her losses, including the end of a way of life in the California of her mother's lifetime, and hers. With exquisite command of language in her memoir Missing Persons, she captures how we die, how we live, and how we let go of our homes. 
"We had so much, Mother, how could we not know?"
***
She is a mother.
"The Lord grant us a peaceful night and a perfect end." Thus, begins the Compline or Night Prayer or the Prayers at the End of the Day, and Tish Harrison Warren's book, Prayer in the Night. She is in the emergency room, hemorrhaging from a miscarriage, and her husband, also an Anglican priest, is reciting the Compline for her. It is 2017, the year Warren's father dies in his sleep, and she suffers not the one but two miscarriages, both boys. As in Liturgy of the Ordinary, Warren weaves her personal and professional experience into an examination of Christian faith, in this case the darkness to which we are all vulnerable. But there is always restoration, and for Warren, too. 
The Compline ends: "The almighty and merciful Lord, Father, Son, and Holy Spirit, bless us and keep us. Amen." An alternate last line, "and all for your love's sake. Amen," is the unshakable Christian reality. This prayer can only be prayed if there is a God who loves us. Just before Warren finished this book, she, her husband, and their two daughters welcomed a son and brother to their family.
***
She is me.
Yesterday was the second Mother's Day without my mother. Though she suffered from dementia—mostly short-term memoir loss—she often spoke about family and neighbors, picnics, the neighborhood book club, and going back to teaching. We had so much, Mother, and now I know.
I have so much, too. On Friday afternoon, I opened the box left at the foot of our driveway. The card read: "Mom and Grandma, Happy Mother's Day! These flowers reminded us of the mountain and all our joyful times together. We will create more memories soon. For now, we hope these bring joy."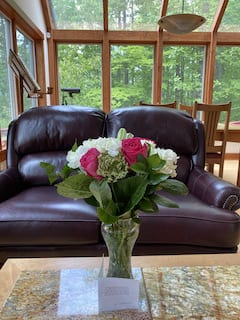 And so I pray for my family: May the almighty and merciful Lord, Father, Son, and Holy Spirit, bless them and keep them. Amen.
This week, I'm linking up with the Five Minute Friday Writing Community.