A magician dangled an ice cream cone filled with black raspberry ice cream in front of my face. The cone seemed to move back and forth, up and down, and around at the magician's command. I searched for evidence of a string or wire connecting the cone to the magician's hand but saw nothing except an intoxicating curiosity… not the ice cream, though I like black raspberry, but the magic. Lured by the dangling treat, I followed the magician down the sidewalk, away from something I hadn't yet seen in this early-morning, dozing dream.
Suddenly, I sensed I was being played. Glancing back, I saw my desk items fanned along the sidewalk. Two thieves were reaching for my purse and laptop.
"No," I shouted, desperately running toward them. They paused to look at me, but I knew my possessions would soon be gone. "No, no, no…" I woke, shouting out loud.
Lately, I've been distracted, worried about family and friends, old and young, in particular my daughter and granddaughter, living among political hostilities in Hong Kong. And while writing, revising, submitting essays for publication— and awaiting feedback on my completed manuscript—I've been dipping more than my toes into marketing… a daunting prospect in a sometimes-hostile social media environment. Also, like the beginning of school, our service commitments amp up in the fall, but projects we'd hoped to complete during the summer here at home remain incomplete.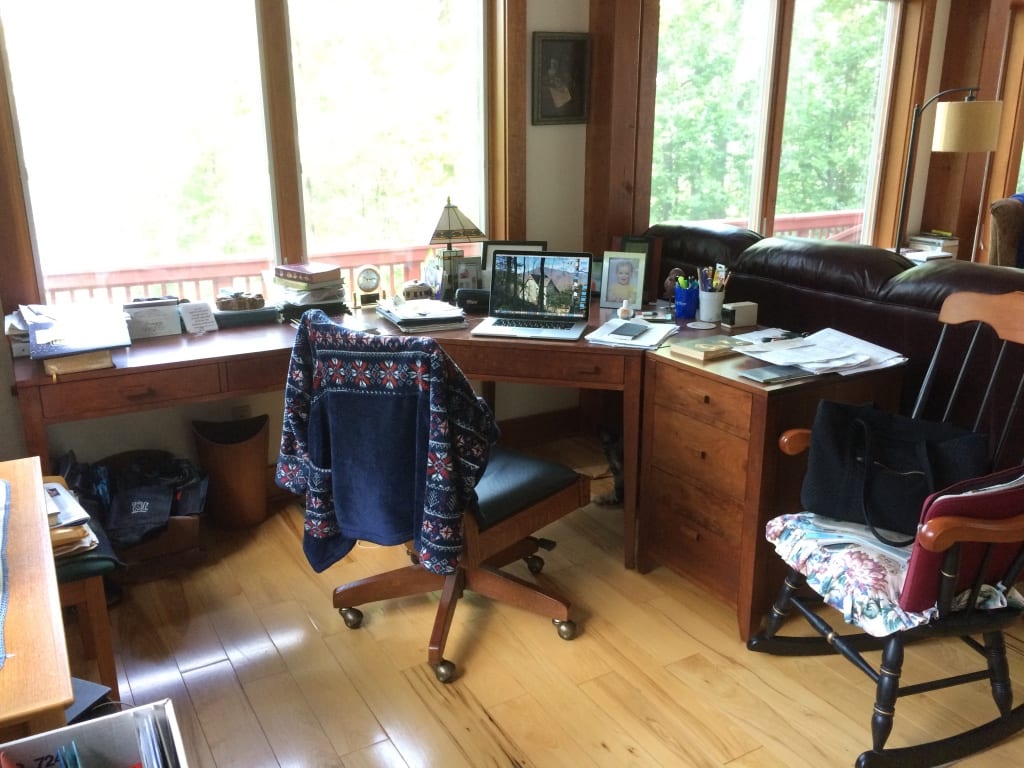 Since my dreams usually debrief recent events in odd ways, I went searching for the strange references. Last week, I completed my review of Bible study lessons to date, from Genesis to Acts, in which Simon the magician appears in chapter 8 and Elymas the magician in chapter 13. Perhaps this was the reason why a sorcerer appeared in my dream. Also last week, our church business meeting took place in the new building's parking lot, since we still don't have occupancy. Perhaps that event connected to my unsettled workspace on the sidewalk—unlike its usual state as pictured here. Was the theft of my purse and laptop about loss of identity and mission because I was distracted by yummy ice cream and magic?
Was my dream about loss of faith, a warning about distraction?
I prayed for protection from sorcerers and thieves: He will cover you with his feathers, and under his wings you will find refuge; his faithfulness will be your shield and rampart. Psalm 91:4 (NIV)
This morning, I dreamed about going back to school, which is typical for teachers this time of year, even a former teacher like me. My dream was unusual, that is, not about being improperly dressed or not capable to teach the assigned course or not prepared to take the test in a class I didn't know I'd signed up for or not able to find the classroom. Instead, the dream opened with me serving ice cream to tired disaster workers in a school cafeteria—perhaps connected to hurricane Dorian or Labor Day, and a few days ago I made Keith's favorite ice cream: rum raisin.
While I served ice cream in the dream, my boss stopped by to inform me she'd rejected an article I'd written for her, gratis. I nodded then calmly asked if she wanted me to withdraw it or revise. She cocked her head and said revise. I nodded. Thereafter, I walked into a brand-new building, found my classroom, and began to teach a course I was prepared to teach: American Art History. I did not have my purse or laptop with me, but among the faces, old and young, I saw my daughter's.
Thanks be to God.
What dreams distract or comfort you?