Though April showers may come your way
They bring the flowers that bloom in May
Did I see lightning first last night or hear thunder? No matter. I knew the click-click of dog toe tails on the wood floor was Freya, leaving our bedroom, because Heathcliff panted beside me.
"Okay, Bub," I said. "Let's go to the basement." It's a safer place to ride out storms that come our way.
We stopped in the kitchen for a "treat," aka Composure, the herbal chew prescribed by our vet to help calm the dogs. Then Heathcliff and I descended the stairs to find Freya, lying on the cool tile floor in the man cave. I had Heathcliff lie down on his bed, then turned the ceiling lights to low and told both dogs to stay. Returning to bed, I monitored the storm's heavy rains and winds until the moon broke through the clouds in the wee hours of the morning.
We woke to rising sun, two dogs in our bedroom, and glorious vegetation outside.
Yesterday's Palm Sunday marked the beginning of Holy Week, and today is Tax Day. I'm reminded of Benjamin Franklin's quip: "…in this world nothing can be said to be certain, except death and taxes."
Holy Week is about sacrifice and death, the world's storms that certainly tax us all. It's also about resurrection, rebirth, and flowers that bloom.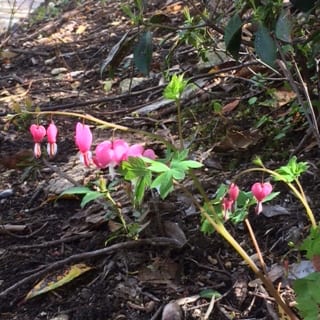 Everywhere I look, I see amazing miracles: Virginia Bluebells, Bottlebrush Buckeye, Redbud, Fothergilla, Viburnum, Periwinkle (above), Bleeding Heart in white and pink (left), and more to come.
Later this week, we'll be caught up in a flurry of family visiting, cooking, and Easter activities. But today, Keith and I plan to spend time outside. He'll restack collapsed firewood piles, and I'll rake gravel on the driveway to cover rivulets caused by heavy downpours. Then Heathcliff and I will walk down the mountain road to the mailbox.
Spring comes earlier to the valley, so we'll get a preview of the glory to come.
I wish you all a blessed Holy Week.