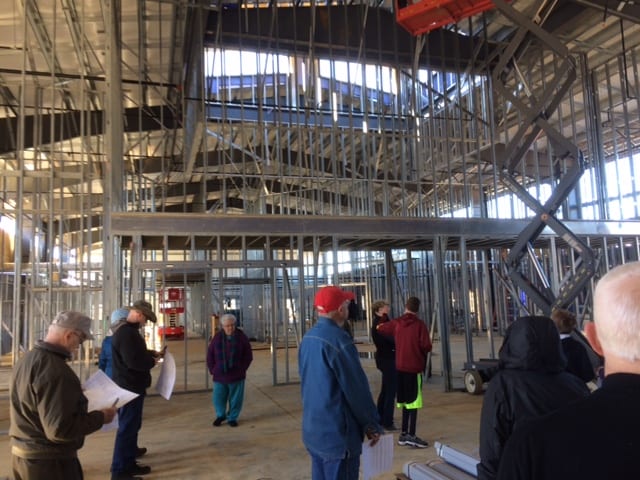 Keith and I pulled into the temporary driveway and parked alongside other vehicles. Our pastor had arranged a Saturday afternoon tour of the new church facility for anyone who was interested. After praying outside—thus avoiding the inside construction noise of sprinkler system installation—we stepped into what will be the narthex and new sanctuary.
Change involves risk. Building on this scale is costly and involves many variables, financing and weather delays usually being the biggest challenges. And construction can be dangerous for workers.
We the congregation had determined that not changing was the bigger risk. Our current facility is nearly one hundred years old, and add-ons over the years have resulted in many stairways, which are difficult for old and young—the church includes an early childhood education center. We determined that renovation would cost more than building somewhere else, plus the new location will better serve a growing congregation.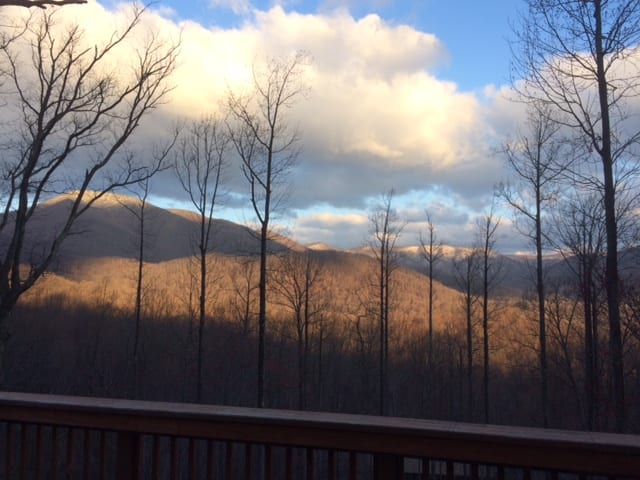 This past week brought snow to the mountaintops, a lovely sight, though I'm eager for spring. I can't wait to clear leaves and sticks from ditches. I crave the liquid time of pulling weeds in the meadow and beds surrounding the house. I want to plant vegetables my square foot garden plots.
For all my efforts, I'm not a very productive gardener. I fail more than I succeed, something I could say about many other things. But I'd rather risk failure than not try, for life is change, and someday I will die.
"Life is filled with risk," Pastor Phil Ressler wrote in his devotion today. "And if we are to live – really live – it will mean we will fail from time to time. The courage to live is the courage to fail. It is the experience of failure that makes us stronger and helps us grow to accomplish more for the kingdom."
On Saturday morning, before the afternoon tour, I quilted with the women at church. I'm not a quilter, but the women don't mind. Teams of two to four assemble bottoms, batting, and tops, pin the sides together, and tie the center squares or if random, seven-by-nine evenly spaced.
Before we broke for lunch, one of the women, likely a lifetime member, handed a postcard to each of us. She'd been sorting her possessions and found copies of a postcard with a picture of the church's original sanctuary. The sanctuary was and is beautiful, and much beloved by all, including me.
On the back is a quote: "A Changeless Christ for a Changing World," which according to my research is attributed to The Lutheran World radio broadcast founder Dr. Walter A. Maier, brother of the Reverend Karl H. Maier, who was ordained and installed as Pastor at our church Bethany Lutheran in 1929.
The postcard now sits on my desk as a reminder of our success.