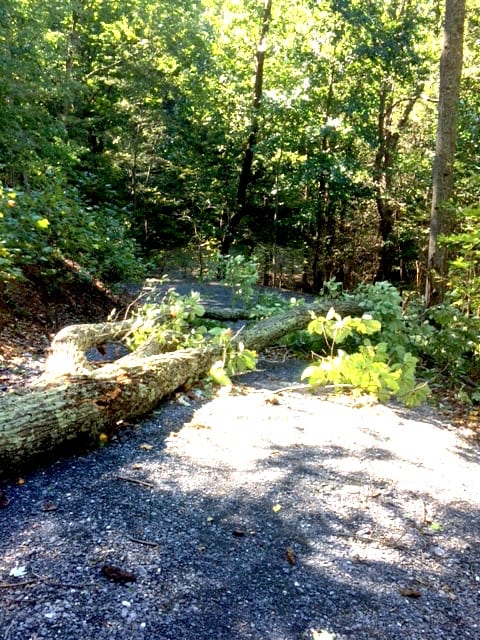 When Heathcliff and I rounded the driveway switchback last Friday morning, we encountered a walk-stopping barrier. Sometime between our evening and morning strolls, half of a large bifurcated-trunked oak had fallen across the driveway. Heathcliff sniffed and explored the novelty, then we turned back. After saying a prayer of gratitude that no one was hurt and nothing was damaged, my brain focused on one thought.
Firewood! (Through next winter)
Last Thursday afternoon, Hurricane Michael roared through the area with blowing winds and driving rain. Three inches of precipitation soaked the already saturated earth. Waterlogged trees fell, including ours, a venerable oak, dating back to the 18th century, we estimated. Our nearest neighbor said he and his wife heard the tree fall about 8 pm—it echoed across the Rockfish Valley below our house. Being uphill and sheltered in our poured-concrete basement—and engrossed in a murder mystery on TV—Keith and I didn't hear anything outside other than wind and rain.
After feeding the dogs on Friday morning, I told Keith about the fallen tree. From mid-morning into the afternoon, we labored, making good progress, clearing the treetop from the lower part of the driveway. But late in the day, when our chainsaws balked at cutting the huge pieces closer to the trunk, we ran out of steam.
We called it a day without clearing the driveway. No Friday date night. No restaurant meal. No show. No matter. After I emailed the box office at the American Shakespeare Center and cancelled our tickets—to be rescheduled—my brain focused on another thought.
Food! (Whatever's on hand)
Early Saturday morning, another neighbor drove up in his truck with a winch to pull the large pieces to the side of the driveway. He and Keith labored throughout the day, cutting and dragging, while I cleaned up, provided water, and cooked. By late afternoon, we were no longer homebound. I drove down the mountain to retrieve two days of mail, and we made it to church yesterday morning.
This morning, a friend showed up with his chainsaw and helped us cut. He'll be back mid-week with a larger saw for the trunk pieces and a splitter. Today, while stacking wood to dry and season, my brain focused on one more thought.
Exercise! (And working muscles)
The remaining half of the oak is leaning downhill, and the half that fell hit a tall popular, which isn't in great shape either. I've contacted a tree service to give us an estimate to take both trees down in the near future. In the meantime, as Heathcliff and I walk down the driveway and back, my brain focuses on the present.
With gratitude for neighbors and friends, warmth, nourishment, work—and date nights.