Goodbye Ruby Tuesday, Hello Rolling Stones is the fourth of four posts related to our August excursion to see the solar eclipse.
Monday night, August 21st, we exited 95 at 8 pm to buy gas and something other than fast food in Lumberton, North Carolina. We hadn't eaten since our sumptuous breakfast at Thee Matriarch Bed and Breakfast in Orangeburg, South Carolina, the morning of the eclipse.
On the entrance door at Ruby Tuesday, someone had taped a page of notebook paper with words scribbled: Sorry no chicken. Selections at salad bar looked spare. Tables were piled with dirty dishes. Wait staff roamed like automatons among seated customers. No hostess greeted us.
She would never say where she came from
Yesterday don't matter if it's gone
While the sun is bright
Or in the darkest night
No one knows, she comes and goes
"Ruby Tuesday," a song about a free-spirited woman recorded by the Rolling Stones in 1967, was still popular in 1972 when founders started the eponymous restaurant chain.
A server delivered plates of food to a table then seated us at one of the few clean booths. After a few minutes, a young, black-haired waitress approached. "Hi, my name is Mercedes, and I'll be taking care of you. I haven't been to the bathroom in hours," she continued without taking a breath, "and you can see my tables are a mess." She swept her arm toward the 9 booths forming an L around 8 stand-alone tables—17 tables, her section.
She leaned against the side of our booth. "I'll get your drinks then come back for your order." I was happy to see Mercedes head to the bathroom and return. "You saw the sign about no chicken, and we're out of burgers and lettuce, too," she said, opening her waiter's pad and flipping to an empty page.
We ordered shrimp and fries, baked potatoes, a turkey burger, and onion rings. "Thank you for serving us whatever food you have, Mercedes," we said.
"The manager's closing the restaurant at 9, an hour early—we're out of almost everything. Monday night is usually slow. We weren't expecting this crowd."
Goodbye Ruby Tuesday
Who could hang a name on you?
When you change with every new day
Still I'm gonna miss you
I hummed in my head as we paid the bill and headed back into traffic. Thus ended our eclipse adventure.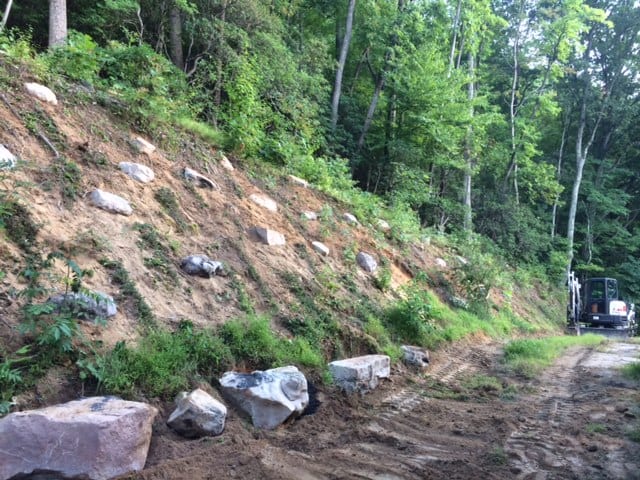 Upon our return to Vanaprastha, Keith and I began a new, free-spirited project, a boulder garden on the back slope. Thanks to the talented crew at Creation Appreciation. Stay tuned for more "rolling stones."