I'd taken a taxi from Penn Station to our hotel in Battery Park City—an area newly rebuilt since the destruction on 9/11. After checking in, I took another cab to meet my daughter at MoMA, the Museum of Modern Art. Jessica had spent the day working at her company's home office nearby. Having planned ahead, she presented our reserved tickets, and we entered the museum's special exhibits.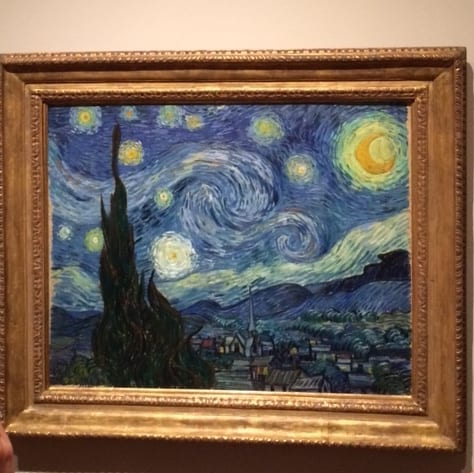 Contemporary art can challenge the viewer, like new food tastes, so I thought this was a good place to start while our minds were fresh. Then, after an hour, we wandered into the permanent collections. In one of the large rooms, we noticed a crowd clustered around van Gogh's Starry Night.
Like many others, I wanted to take a picture of the painting, the inspiration for Don McLean's song, which is one of my husband Keith's favorites. Clouds and pinwheel stars whirl in the night sky made bright by a crescent moon. Below nestles a town, the center of which is a tall church steeple. In left foreground a large, tree-sized bush stands dark and alone.
Jessica waited patiently while I inched to the front of the crowd. She knew I was thinking of Gretchen, the artist daughter I would never meet. Keith's daughter died before we could find one another.
After brunch on the second day, Jessica and I walked to the new location of Whitney Museum of American Art. There she frolicked in the Stuart Davis exhibit, linear paintings with bright colors, images and words, perhaps precursors to Pop Art. I snapped pictures of Jess in front of her favorite works. Later in the gift shop, I purchased a tea towel printed with the image of one of Davis' paintings and gave it to her as a remembrance.
All during our two days together, I saw children—children playing, riding trains and elevators, eating lunch with their families. I prayed for God to watch over my daughter, all daughters, all children, so that they too might view a van Gogh, or frolic in front of Stuart Davis' paintings, or better to create their own.