I was born in the 50s, but my possibility of life had been jeopardized at least three times in the previous decade. Many of us whose parents served in the armed forces during WWII could say the same thing. Three of my father's assigned units were wiped out to the man, and he survived only because last-minute orders sent him elsewhere.
Because my husband Keith's father was a fighter pilot in WWII, Korea, and Vietnam, Dad—everyone in the family called him Dad including me—had many similar stories. He survived when his P-47 was shot down in Belgium in 1945. Another time, when he was flying the F-100 Super Saber jet, a superior officer commandeered Dad's plane in order to fly with a visiting officer. The plane malfunctioned on take off and crashed into a hillside.
Who can make sense of my father and father-in-law's experiences in service to their country? Or any near misses, dodging life-threatening bullets, missing life-affirming opportunities?
When I see pictures of my father in uniform, here standing next to my mother—they were married soon after this was taken—I think about how life can seem serendipitous. There they are, grinning at one another, arms crossed and akimbo, Mother's life-affirming confidence and Daddy's bravado.
Young and fearless in the face of Depression and World War, my parents were members of Tom Brokaw's Greatest Generation, and I am one of their baby boomer offspring.
This past weekend, I attended the Creative Nonfiction Conference in Pittsburgh for the first time. No longer young and wise enough to know fear, I navigated master classes, panel discussions, presentations, and awkward schmoozing.
Everyone has stories to tell, but how does one craft them? Through research and structure, Creative Nonfiction's founder Lee Gutkind answered. Find the frame, the larger story, and alternate scene with information. Know your audience; engage your readers. Revise, revise, and revise. Learn how to pitch and write query letters. Cooperate and collaborate with agents and editors. Don't take rejection personally.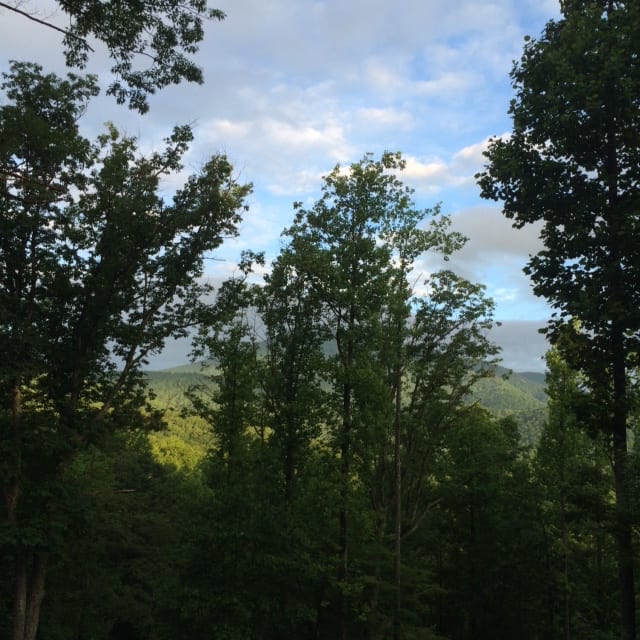 When I got home after midnight last night, the dogs greeted me with whirling tails and toothy grins. Heathcliff and Freya were up this morning, running the mountain with the sun, and I joined them soon after, minus the running. But I was awake enough to see the glory of God's creation, which needed no crafting on my part.
I'm grateful that my father and Keith's dad lived to have children, careers, and many memories. Both wrote about their lives, trying to make sense of their experiences. Using Dad's notes, drafts, and research, Keith is writing his father's stories, memorializing his memories.
The larger, life-affirming, true stories, well told.
What memories do you have this Memorial Day?