Yesterday was Mother's Day, a celebration honoring our mothers and motherhood. The holiday dates back to the early twentieth century when a West Virginia woman named Anna Jarvis campaigned for a day of recognition in honor of her recently deceased mother, a peace activist who cared for wounded soldiers on both sides during the Civil War and was dedicated to public health issues. In 1910, Jarvis' home state sponsored the first remembrance of Mother's Day.
All mothers remember the events surrounding the birth of each of their children. But we are not well prepared for these miracles, at least I wasn't. I expected to love and care for my daughter and son. What I also experienced was an overwhelming surge of love, which squeezed my heart until it hurt. Do all mothers feel this?
Anna Jarvis specified that "Mother's" should be singular possessive for each family to honor their own mothers. She spent a great deal of time and effort on her campaign to make Mother's Day a national then an international holiday. She even trademarked the phrase "Mother's Day." President Woodrow Wilson used this phrase and spelling in his 1914 proclamation, declaring the second Sunday in May as a national holiday.
The most famous proclamation about love is found in 1 Corinthians 13: Love is patient, love is kind. It does not envy, it does not boast, it is not proud. It does not dishonor others, it is not self-seeking, it is not easily angered, it keeps no record of wrongs. Love does not delight in evil but rejoices with the truth. It always protects, always trusts, always hopes, always perseveres. (verses 4-7)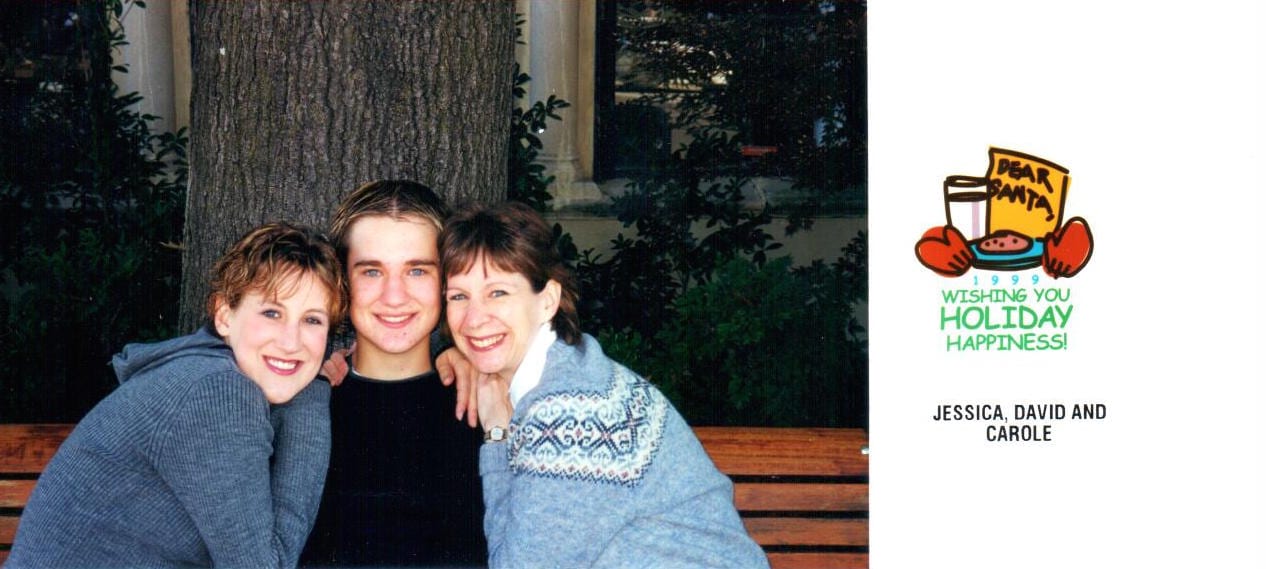 Love might be patient, kind and not easily angered, but I wasn't, not always. But I persevered, vowing to protect and guide my children through the rocky shoals for growing up. And I was proud, so proud of my children. Our Christmas cards boasted candy-sweet Kodak moments with flower-scented Hallmark messages.
By the 1920s, Jarvis' holiday became commercialized. Hallmark and other companies marketed pre-made cards. Jarvis argued for handwritten letters of love and gratitude. Candy makers encouraged people to buy sweet gifts for their mothers. Jarvis protested the candy makers' 1923 convention in Philadelphia. The American War Mothers raised money by selling white carnations, a flower that had become associated with the holiday. This time Jarvis' protest resulted in her arrest for disturbing the peace. While others profited, Anna Jarvis did not. She lived with her sister in later years and died in 1948. She was buried next to her mother, sister and brother.
And now these three remain: faith, hope and love. But the greatest of these is love. (1 Corinthians 13:13)
Anna Jarvis never married and had no children, but apparently she loved her mother.
On Friday, FedEx delivered a bouquet of two-dozen pink roses. The card read, "Happy Mother's Day!" The flowers were beautiful and the message was filled with good wishes that squeezed my heart.
Do all mothers feel this?
P.S. Upon remarriage ten years ago, I was blessed with another son. Alex squeezes my heart, too.