My husband Keith is "tit-for-tat" generous, that is, he tries to give at least as much as he receives. That and the Five-Minute Friday prompt, got me thinking about what generous really means.
Here are some examples from Merriam-Webster's online dictionary:
The school raised the money through donations from generous alumni.  
He was generous with both his time and his money.  
She has always been very generous toward the poor. 
This restaurant is known for its generous portions.  
She has a generous heart.  
He has generous sympathy for unemployed workers.
Generous. Let's start with money and food.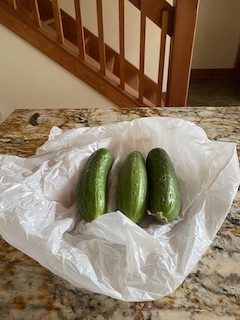 Generous with things
When my garden produces more than the two of us can eat—as here with cucumbers—I share with my neighbors. It's easy to be generous with food—and money, when we have more than we need. When we're generous, we get much in return, as stated in Old Testament Scripture.
Honor the Lord with your wealth, with the firstfruits of all your crops; then your barns will be filled to overflowing, and your vats will brim over with new wine. Proverbs 3:9-10
It's not as easy to be generous with first fruits when we don't think we have enough to eat or to pay our bills. And very few of us are willing to work for free under those circumstances. When I query publishers, I make a concerted effort to show marketability. Book publishers expected compensation for their time—as well they should.
Generous with time
Keith often says, "Time is the most valuable thing we have." There is value in giving others our time, receiving time from others, taking time for ourselves, as I wrote about here.
But I struggle with time. I often run late, pack too much into too little time, and say "I'd be glad to" when my gut says "No." Keith warns me about saying, "Yes," all the time. I might be depriving others from doing their missions and using their gifts.
Generous with spiritual gifts
Generosity is a spiritual gift that enables us to share what we have and who we are with others, joyfully and passionately. Not all of us have this gift. But those who are so blessed share not only time and money but also abilities and themselves out of kindness, without patronizing or minimizing the recipients.
As the widow who gave all she had to the temple in Luke 21:1-4, spiritually gifted givers give with no strings attached and no expectation for anything in return, except maybe the joy of love that increases with the giving. (1 Thessalonians 2:8)
For most of us, being generous is about things and time. But when the giver becomes the gift, that comes from the place of grace.