Fast, as an adjective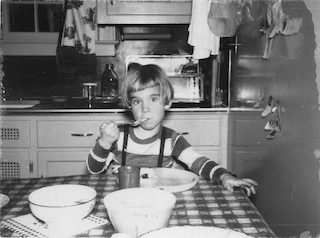 I am a fast horse, galloping across the field in front of our house, or a bear, loping through woods, or a bird, leaping off the living room sofa into my father's arms. I want to fly, too, and often do, climbing the highest trees and swaying wildly in the wind. I ride my bike down dangerous hills with my sisters and fast friends in our rural Connecticut neighborhood, all of us shouting, "Look ma, no hands!" 
Summers last forever, but the hands on the clock make fast work of my childhood.
Fast, as an adverb
Events follow fast upon one another. I am a teacher; I am a wife; I am a mother; I am a single parent. I hold fast to my children, guiding them as best I can. I sleep fast rather than fall fast asleep. After coming to believe, I open my hands and pray.
Summers slip by all too fast, and soon my galloping children fly away.
Fast, as noun and verb
The weight-loss advertisement on Twitter shows women at various ages. For those over 65, the ad recommends no breakfast and abstaining from food at night and intermittent fasts. I do not like to fast but do so before medical procedures and in solidarity with others and to be steadfast.
No fast for us this past week. Keith and I celebrated his 75th birthday, first with fast friends, then with a neighbor, then the two of us here out to dinner, then the two of us at home. How fast those 75 years went, and my 75th is fast approaching.
Rather than worry about social media standards and fasting, Keith and I focus on finishing well. We look forward with hope and being able to say what Paul said in 2 Timothy 4:7: "I have fought the good fight, I have finished the race, I have kept the faith."
Fast friends, the adjective; holding fast, the adverb; fast from food, the noun; fast-forward, the verb.
Link up with Five Minute Friday: https://fiveminutefriday.com/2022/04/28/fmf-writing-prompt-link-up-fast/