The crucial decision regarding the existence of God
Last Friday morning—a delightful sunny day compared to today's delightful rain—I went upstairs to the loft in order to place some end-of-the-month financial records in the file cabinet. Hearing my footsteps and the click of the file cabinet drawers opening and closing, Keith looked up from his chair and said, "Listen to this, Carole, it's about the atheist decision, from the book I'm reading."
After filing the bills and statements, I walked over to Keith. He showed me the cover of Rabbi Moshe Averick's Nonsense of a High Order: The Confused World of MODERN ATHEISM. Then he took a sip of his coffee, cleared his throat and read the opening three lines from the introduction:
"This book is about the crucial decision human beings face regarding the existence of God. It is without a doubt the single most important decision we ever make. The entire meaning, purpose, and direction of our own lives, the way we relate to our families and loved ones, and the entirety of humanity, hangs on this decision."
***
The Atheist and the Bear and An Atheist's Lament on The Perennial Gen
This week, I explore the concept of atheism and mid-life faith shifts—others and my own. The post is now live on The Perennial Gen site: https://theperennialgen.com/the-atheist-and-the-bear/. If you leave a comment here or on The Perennial Gen site, I'll get back to you.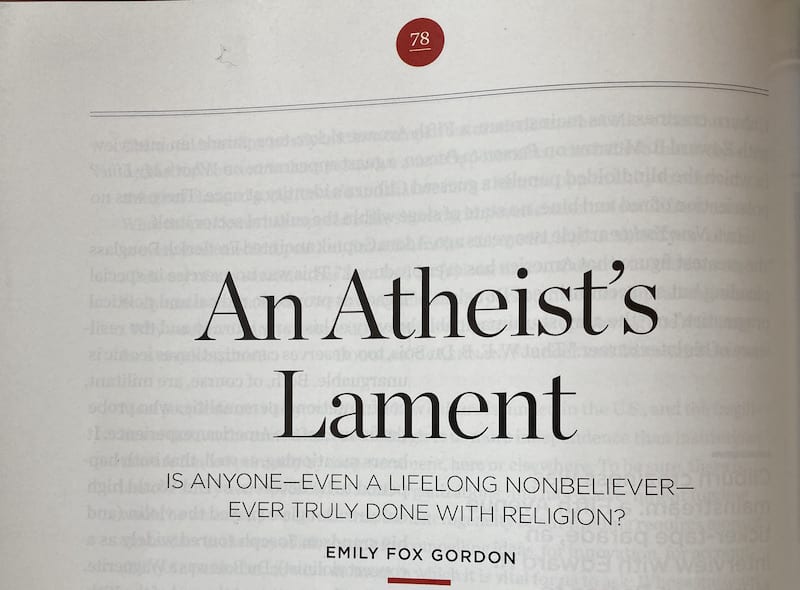 ***
Helping each other to grow in faith
The crucial decision I made thirty years ago—a reflection here—is still changing me and my relationships, especially my relationship with Keith. As Dorothy Littell Greco, author of Marriage in the Middle, wrote in her recent newsletter, successful habits of marriage include helping each other grow. Amen to that, and thank you, Keith, for the Rabbi's book reference.