After playing along with the opening hymn, I made my way back to Keith, sitting in the sanctuary at Bethany Lutheran Church. Yesterday's Gospel reading was Mark 1:1-13. In this scripture passage, three things happened to Jesus:
1. At that time Jesus came from Nazareth in Galilee and was baptized by John in the Jordan. (verse 9)
2. Just as Jesus was coming up out of the water, he saw heaven being torn open and the Spirit descending on him like a dove. And a voice came from heaven: "You are my Son, whom I love; with you I am well pleased." (verses 10-11)
3. At once the Spirit sent him out into the wilderness, and he was in the wilderness forty days, being tempted by Satan. He was with the wild animals, and angels attended him. (verses 12-13)
Baptism, filiation, wilderness. Forgiveness, love, temptation. In our own darkness, we need the Light.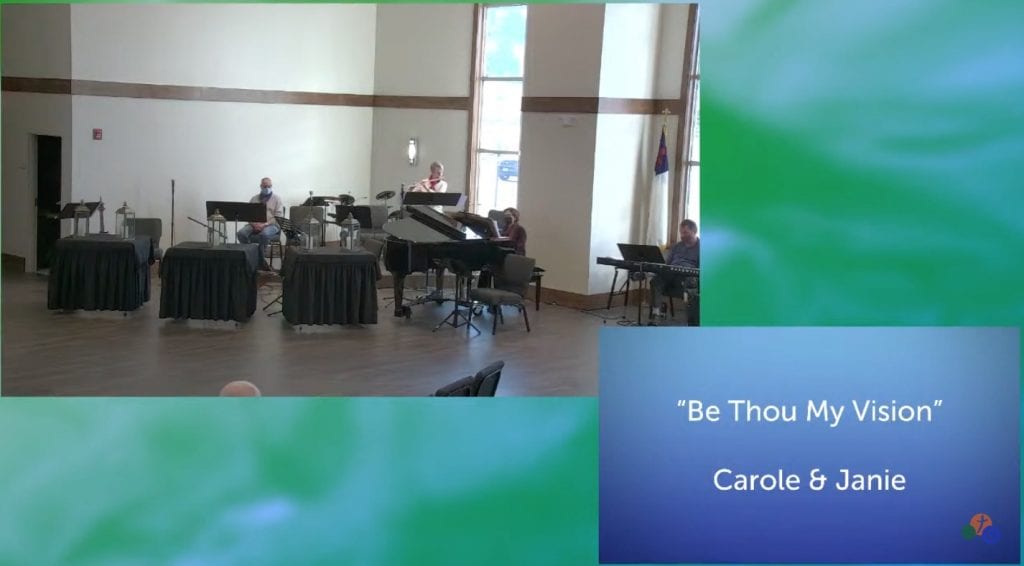 Following Pastor's message, two members of the music ministry—Janie and myself— played an echoing version of "Be Thou My Vision," a traditional Christian hymn. Since 1919 it has been commonly sung to an Irish folk tune, noted as "Slane" in church hymnals.
Slane is a sacred site near the ancient hill of Tara in County Meath, dating back to Ireland's pre-Christian and pre-Celtic past. But the site has nothing to do with the hymn, which remained in the Irish monastic tradition for centuries before it became associated with the folk tune. The tune was first published without annotation or attribution in Old Irish Folk Music and Songs in 1909 then adapted and renamed "Slane" for the 1919 Irish Church Hymnal. The current form derives from an adaptation for the Church Hymnary, published in 1927.
The words are based on a Middle Irish poem often attributed to the sixth-century poet St. Dallán Forgaill, though it's probably later—early eighth century by some sources. The best-known English version was translated by Eleanor Hull and published in 1912. Although the arrangement we played was scored for instruments, here are the lyrics if you'd like to follow along: https://www.youtube.com/watch?v=idat1P8JPrw from 42:00-45:00.
Be thou my vision, O Lord of my heart
Naught be all else to me, save that thou art
Thou my best thought, by day or by night
Waking or sleeping, thy presence my light
Be thou my wisdom, and thou my true word
I ever with thee and thou with me, Lord
Thou my great Father, and I thy true son
Thou in me dwelling and I with thee one
Riches I heed not, nor vain, empty praise
Thou mine inheritance, now and always
Thou and thou only first in my heart
High King of heaven, my treasure thou art
High King of heaven, my victory won
May I reach heaven's joys, O bright heaven's sun
Heart of my own heart, whatever befall
Still be my vision, O ruler of all

Last week, a dear friend's beloved husband passed away. As we prayed for her and others grieving loss, struggling with or recovering from health issues, and for an impending baptism, I thought about Slane's haunting tune and powerful lyrics.
Be thou my vision, O Lord of my heart… Be thou my wisdom, and thou my true word… O ruler of all.
God is our light and our strength. He is with us no matter where we are in life. Watching over us, standing by our side.