I dreamed it was twenty-five years ago, and my teenaged daughter was learning to drive. We had visited the Dallas Museum of Art—we lived in Texas back then—and were dropping my grade-school son at a friend's birthday party on the way home.
While monitoring my daughter's driving and attending to my son's excitement—and making sure he'd remembered his birthday gift, I inventoried the items at my feet: grocery bags, laundry, house cleaning and yard tools, school supplies and lesson plans for my students and children. Apparently, I was home-schooling, too, as if present parental challenges had folded into the past. Though I moved items around and checked them off my to-do list, I knew no matter how hard I worked, the same tasks would appear on my next-day's list.
Upon waking, I remembered what a terrible driving teacher I'd been, clutching the dashboard and shouting warnings. Yet, now in the quiet at Vanaprastha, only one word echoed from past to present.
Unfinished.
***
Later, knowing that everything had now been finished, and so that Scripture would be fulfilled, Jesus said, "I am thirsty." A jar of wine vinegar was there, so they soaked a sponge in it, put the sponge on a stalk of the hyssop plant, and lifted it to Jesus' lips. When he had received the drink, Jesus said, "It is finished." With that, he bowed his head and gave up his spirit. John 19:28-30 (NIV)
In Roots and Sky: A Journey Home in Four Seasons, Christie Purifoy and her husband move their family into an old farmhouse in Pennsylvania. Purifoy's lyrical memoir traces their first year at Maplehurst. She explores her faith through the joys, trials, and surprises of creating a home and raising four young children—including a newborn—and gardening.
One day Purifoy asks, "If it is finished, then why does so much feel unfinished? I am unfinished. My home is unfinished. Our dreams are unfinished. My children are certainly unfinished."
"In the beginning," the apostle John wrote in the Fourth Gospel, and in the end, Jesus said, "It is finished."
Purifoy: "We love beginnings, and we privilege endings, but we live most of our lives in some sort of middle. Life is perpetually unfinished. That is its nature. I want to know what the last words of Christ offer those of us who are still living in the shadow of the cross. Those of us who are living in unfinished places and in the midst of unfinished days."
What do we know? That only Jesus could finish the work of seeking and saving that which was lost, to provide atonement for sinners and reconcile them to God. None but Christ could accomplish that work and say with authority, "It is finished."
And yet I keep trying to finish everything, to earn that "finish," all by myself.
***
Last week, I did something radically new for me: I didn't finish something even though I could have. I always finish books I've started to read, at least eventually. But having slogged through the prologue of a poorly-written memoir, I skimmed the first chapter just to give it a fair chance then pitched the book into our give-away book box.
Unfinished.
Today, I'll do more unfinished work: reading, writing, practicing my flute, preparing meals, doing laundry, tending our dogs, cleaning, working on neighborhood association tasks, and planting bulbs, as in this photograph, some today, some tomorrow or later this week. Not all trying to finish, or do enough—according to my standards—to earn my way into heaven, the "finish." But reconciling myself to living in the middle, between the beginning and the world without end. And doing so with as much love for God and others as I can.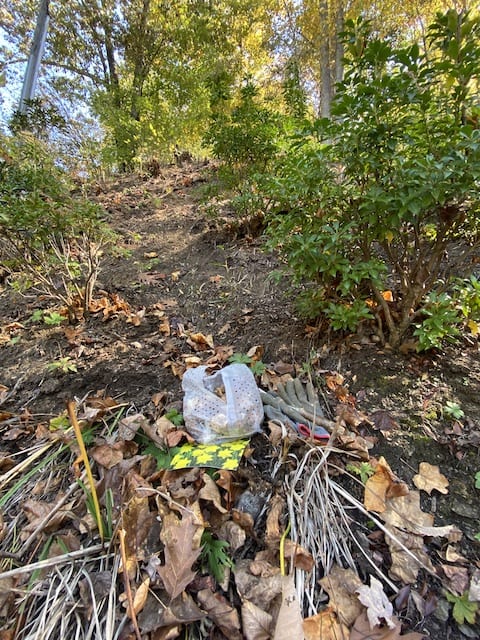 What are you not finishing today?