I eased into the recliner in the great room here at Vanaprastha, covered myself with a warm throw blanket, and opened my iPad. I'd downloaded several memoirs that might compare to mine. Along with target audience, author bio and publications, platform, marketing, endorsements—and specifics about the manuscript I hope to get published—I needed to list comparable books.
So, I journeyed into the memoir, sipping green tea and enjoying the story but not really connecting with the protagonist. Her teen and young adult struggles—being a Christian while living the life of a party girl—seemed different from mine.
Until.
"When we hide the mess we've been through, we also hide the redemption that God has lavishly poured on us."
Suddenly, it was 1970, and I was eighteen, a freshman in college and author of a one act play I didn't understand, even when it was produced on stage. Now I knew why. Though my name appeared on the page, someone else had written the play.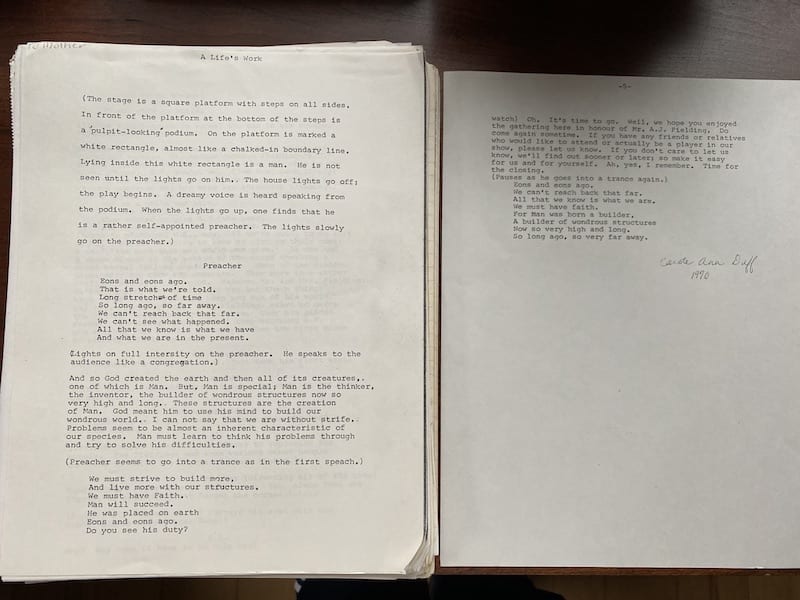 A Life's Work, by Carole Ann Duff
(The stage is a square platform with steps on all sides. In front of the platform at the bottom of the steps is a "pulpit-looking" podium. On the platform is marked a white rectangle, almost like a chalked-in boundary line. Lying inside this white rectangle is a man…)
The man is an architect, a builder, the protagonist, me. During the play, blocks are placed on the chalked-in rectangle by parents, a preacher, and others then by the protagonist me herself, creating a walled-in tomb. When the blocks are chest-high, the protagonist notices what's happening and wants out.
"I don't want to get hurt," he/she screams. "I just want to get out. Please, somebody just let me out – just a few blocks. I can't do it; they're too heavy. Anyway, it's the only thing I have. I built it, and I can't tear down what I've done, can I? Oh, can't anybody help me? I suppose not. I could just move some of these blocks over here and make this side lower. Then I could get out. No, then someone could get in. Oh, I can't live like this!"
In truth, the protagonist could not live like that, hiding the truth of her humanity and God's redemption. The one act play was a funeral, a living death. Fifty years ago, God had shown me the consequences of unbelief.
Unbelief until.
Years later, I hit another "I can't live like this" crossroad and chose life.
***
At Vanaprastha, I found more and more connections while reading Jamie Ivey's If You Only Knew: My Unlikely, Unavoidable Story of Becoming Free. She wrote,"We must stop creating our own identity based on our past or other people's perceptions, and start walking out the identity that Christ has given us."
Ivey's story was not so different from mine after all. Then this gem: "When seen through the eyes of the gospel, our stories are not obstacles to our freedom; they are actually the key to unlocking it."
Stories about blocks removed, walls tumbling down, the truth unlocked. Living water. Along with this shiny new website, that's what happened last week.
If we only knew.
Today's note from Vanaprastha.