A gentle answer turns away wrath, but a harsh word stirs up anger. Proverbs 15:1 (NIV)
I lay in bed in the middle of the night, wakeful and worried. During the day, migraine auras had flashed like white and black lightning streaks in the peripheral field of my right eye. Though my ocular migraines have never been accompanied by classic migraine headaches, now a blind-spot floated across my field of vision. I hadn't had anxiety symptoms like this for at least two years and never this persistent.
Since I knew my anxiousness indicated, in part, a lack of faith, I prayed. My prayers often seem like I'm having a one-way conversation. And yet, even though no words come back to me, I always feel calmer. But this time I heard a gentle voice.
"You are loved."
Okay, those three words were unexpected, I thought, and welcome.
And then this: "You are greatly loved."
I knew immediately, it was the voice of Jesus.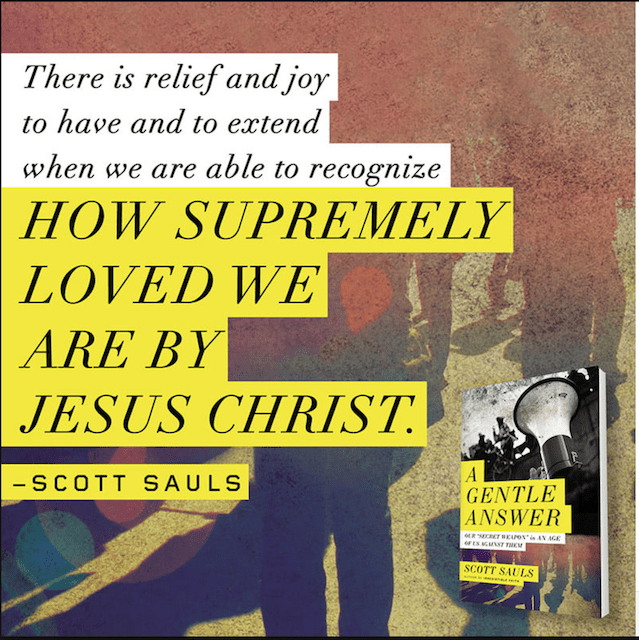 A Gentle Answer, by Pastor Scott Sauls, is a timely book, given the current state of our country and world. In Part I, Sauls addresses the gentleness Jesus has for us: He befriends the sinner in us, reforms the Pharisee in us, and disarms the cynic in us. Then in Part II, Sauls explores how His gentleness changes us: we grow thicker skin, do anger well, receive criticism graciously, forgive, and bless our betrayers.
Sauls: "Because Jesus Christ has loved us at our worst, we can love others at their worst. Because Jesus Christ has forgiven us for all of our wrongs, we can forgive others who have wronged us. Because Jesus Christ offered a gentle answer instead of pouring out punishment and rejection for our offensive and sinful ways, we can offer gentle answers to those who behave offensively and sinfully toward us. But make no mistake. Jesus's gentle answer will be costly as well. We must die to ourselves, to our self-righteousness, to our indignation, and to our outrage."
A gentle answer is not a weak answer.
Sauls: "In fact, it requires the deepest, most courageous, and most heroic kind of faith—the kind that is possible only through the gentle and gentling power of Christ himself."
As soon as I heard Christ's voice speaking to me, my middle-of-the-night worrying stopped, and I began to pray for others. Only love can drive out worry, anger, and guilt. Because love is the most powerful answer.
I'll contact my ophthalmologist if the auras and floaters persist. In the meantime, I'm holding God's love close to my heart—a two-way conversation. So for today, I can die to myself and share the gentle, courageous, healing message of Christ with those ready to hear and pass along these words:
"You are loved. You are greatly loved."