We sip our drinks and munch on fresh-cut veggies with homemade hummus while sitting on the terrace, facing the Three Ridges Wilderness area. It's late Friday afternoon, the end of the week, time to kick back and relax before supper. Inside the house, Heathcliff sprawls across his nest bed, recovering from his walk; Freya perches at our feet, hoping to lick the hummus bowl.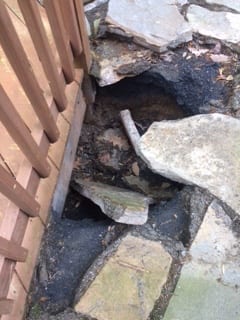 We hear the sound of a truck, coming up the mountain road then up our driveway. I grasp Freya's collar so she'll greet our landscaper properly. Earlier in the week, we asked him to inspect a sinkhole at the far end of the terrace next to the dining deck. Our carpenter discovered it the hard way—no injury to him, thank goodness—while making repairs and staining the deck.
We show our landscaper the sinkhole plus another area of unexpected yet potential collapse: the stepping stones under the north corner of the deck. When you live on a mountain, erosion is an on-going problem.
Those who love me, I will deliver; I will protect those who know my name. When they call on me, I will answer them; I will be with them in trouble, I will rescue them and honor them. Psalm 91:14-15 (NRSV)
God doesn't keep us from trouble but promises to be with us—if we call on him. And when we act in righteousness, we problem-solve together. Problems test us, our businesses, governments, churches, and families. The test might be a snag in our daily routine or more—a sinkhole.
Our landscaper peered in the sinkhole. "This is a warranty issue," he said. "When I get back to the office, I'll create a work order. My hardscape crew will take care of the repair." Later, he emailed an estimate for the other area of concern. His proposal included compacting crusher stone to secure the stepping stones, covering the area with landscape fabric, then spreading river stone on it to prevent future erosion.
Instead of rivulets like those that appear in the gravel driveway during heavy downpours, rainwater will hit the stones and disperse into the surrounding meadow.
End of troubles. For now. Thanks be to God—and for the opportunity to work together: landscaper, carpenter, property owners, and God the Creator.
What "sinkhole" have you experienced lately, and how did you solve it?