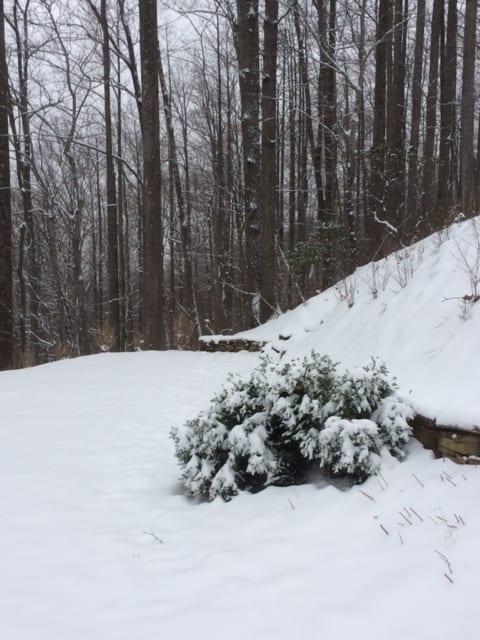 I shoveled a path to the bottom of the driveway then stopped to catch my breath before shoveling another path on my way up. Last Wednesday's snow and freezing rain had left us homebound for the day. Overnight, rising temperatures and heavy rains had cleared tire tracks on the mountain road down to gravel. If I shoveled tire tracks on our driveway, I thought I could get out and keep my Thursday commitment in town.
My cheeks were cold, my nose running and energy flagging. I looked up to sight the second tire track. Suddenly, a warm breeze caressed my cheek.
A zephyr, a transient whisper, a promise of spring.
According to Greek mythology, the god Zephyrus was the west wind, the bringer of gentle breezes, the messenger of spring. You won't find the word "zephyr" in the Bible, though the wind often describes the presence of God or the Holy Spirit. My thoughts exactly as I continued shoveling the second tire track up the driveway.
Later, I backed the truck out of the garage, pointed it down the driveway, and prayed. The truck slid a little but only when I strayed from the tire tracks. I recognized the Biblical metaphor, wisdom from Proverbs.
By the time I got home in the afternoon, the road and driveway were clear, thank goodness. The snow had disappeared from all except shaded areas.
Winds from yet another storm kicked up yesterday afternoon. Strong gusts whistled against the house last night and rearranged the furniture on our deck. This morning, Heathcliff and I cleared several sticks from the road during our morning walk. This "stick," leaning across the mountain road, was too big for us to budge.
I texted a picture to Keith and our neighbor, saying, "More firewood," and our neighbor, who heats his house with firewood, replied, "Where is it?" I texted the exact location, and we set a time to meet with chainsaws to clear the fallen oak tree from the mountain road.
On our way back up the driveway, Heathcliff and I stopped beside these boxwoods, now free of snow. I noticed daylilies peeking up from the ground behind the bushes. A sudden wind gust swayed the tulip poplars around us. No gentle zephyr today, I thought, but a promise of spring all the same.