Last Thursday, 4:30 a.m. I'm snoozing in bed and half-listening for the backup generator outside our bedroom window. Every week, our automatic standby generator system performs a 15-minute test cycle—a critical self-diagnosis. This morning, it's cold outside.
Very cold.
The generator cranks, sputters, and stops. Then it cranks again and again and again, each attempt shorter. With a final click, the starter dies.
Years ago, when I taught students using laptops, I said to them again and again, "It's not a matter of IF your computer will crash but WHEN." In other words, take care of your laptop and backup your files on a regular basis.
Not Plan B's IF. Plan A's WHEN.
As far as the generator is concerned, I do not heed my own warning. I ignore the obvious need for maintenance—reluctant starts in past weeks—and base my inaction on a slippery slope of "if's." If this, if that, or if something else happens, then I'll do something. Lots of Plan B's.
There's really only one plan: God's Plan A. On earth, that boils down to birth and death. Not IF we die but WHEN.
The fact that our time on earth is finite changes my thinking and behavior. When I follow God's Plan A, I pray first. Then I act, using the talents and abilities God gives me.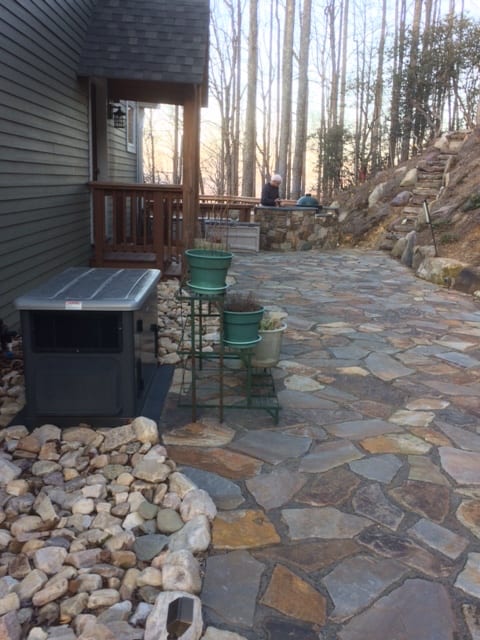 In God's Plan, I'm intentional about how I take care of myself: spiritually, physically, intellectually, and communally with family, friends, neighbors near and far. I'm intentional about how I share my gifts with others, like Keith is here—in the background of this photograph—grilling fish for us this past weekend. And yes, that's the generator on the left behind my herb plant stand.
So, what about that backup generator?
After installing the unit, our propane company changed ownership and no longer sells or maintains generators. So, I use our local business network and obtain a recommendation for a backup generator company in Charlottesville. One of their technicians will be in our area next week, and we will be on their annual service schedule from now on.
Even with replacement parts and regular maintenance, the backup generator won't last forever, and neither will I. Barring an accident or the like, I too will wear out. Then my time on earth will end, regardless of my "if this, that, or something else" plans.
God's Plan is never an IF but WHEN. It's not for me to know WHY. That too is part of God's wonderful and mysterious plan.