What's on today's menu?
Barbecued ham, whipped potatoes, and veggies—a picnic on the dining deck later this afternoon. I remember neighborhood picnics on the 4th of July and Labor Day, the official opening and closing of summer in Connecticut. Very few braved a cold swim in the neighborhood's spring-fed pool on Labor Day or thereafter.
I might wish for a cool dip in that pool or return to childhood when summers never ended. But that past is past, and I am content. Today, I'll read, write, wash, clean, garden, cook, play my flute, and bathe our dogs.
To paraphrase writer Abigail Thomas, who spoke at this year's Hippocamp Conference: "If you're not making something out of nothing [with your hands], the alternative is shopping."
*
This morning, I scanned the ads in my email's Inbox: "Time is running out! Don't miss this! Last Day! Labor Day Sale! 30% off! Labor Day Only! $10 coupon good through midnight night! Clearance! Labor Day Special! Free Shipping! Ends tonight!"
Labor Day is a major shopping day, especially for back-to-school clothing sales. Remember the rule? No wearing white after Labor Day. I think that only applied to shoes, but one could never be too careful. My daughter and I put our whites away until Easter, or maybe it was Memorial Day.
In Connecticut, school always started the Tuesday after Labor Day. Though today is a holiday, many schools began in August. For the past couple of weeks, my Facebook newsfeed has featured the sweetest pictures of scrubbed-clean children bearing backpacks and smiles.
Tomorrow, the early childhood school at church begins. The teachers are ready. Along with other church members, I will greet the children and hand welcome bags to their parents. Once I was one of those parents, one of the teachers, too.
But summer has ended, and fall has begun.
*
Labor Day marks the end of summer training camp and the beginning of football season. Tonight, Keith and I will watch the first Monday night game of the NFL's 2018-2019 schedule. Keith is excited because the NY Jets play the Lions in Detroit, Keith's hometown. Every year, Keith renews his youthful optimism for the Lions and fondly remembers his young adult years, watching Monday night football.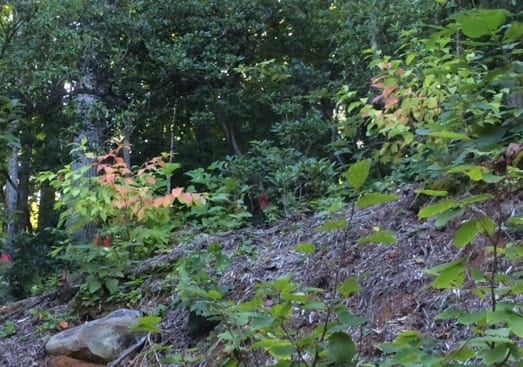 Though not a sports fan, I will keep him company through fall and into winter. I will also abide with students, teachers, and parents sending their children out into the world.
All while noting signs of change here at Vanaprastha.
Correction from Keith: The first NFL game of the season is this Thursday night, followed by games on Sunday afternoon. Next Monday is the first Monday night game. Please don't throw popcorn.